Does your cat go crazy with catnip?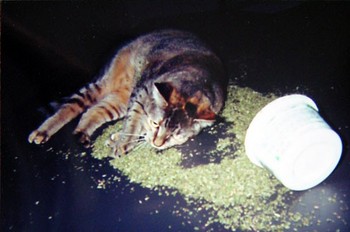 United States
January 19, 2007 12:21pm CST
My cats go crazy when I bring home a new scratch box or any toy with fresh catnip. It is like they get drunk on it. They lay on top of the scratch box and then they get up staggering. It is so funny. I don't have any pictures of my cats with it yet but I found this one on the internet and it looks like something my cats would do.
5 responses

• United States
20 Jan 07
My cats love catnip but they don't go "crazy". One of them will take some fresh catnip and lay down and start washing the catnip from stem to tip. Then he takes a nap. The other one like to roll in and on it. Cats also will react the same way to fresh oregano and fresh parsley, just crush the leaves a little to release the scent.

• Australia
19 Jan 07
Catnip has never had any effect on any of the cats I've had. It's a pity because I've always wanted to see what all the fuss was about! I wonder if youtube has any clips of cats going crazy for it. Maybe I'll have to do that to satisfy my curiosity.

• United States
19 Jan 07
My cats go crazy for catnip, but they also act like that around oregano. Is oregano in catnip? Why does oregano affect them? Does anyone else have cats who act strangely around oregano? Mine want to rub against the oregano bottle and then against my shoes, and they attach themselves to my leg and rub against my leg. :P They continue acting really weird for about an hour after getting a good whiff of oregano.

• United States
19 Jan 07
My cats back home all LOVE catnip. Once i got a bag of it to refill there toys and before i could get to it they have the bag open and the catnip was all over the floor and they were just going nuts!

• United States
19 Jan 07
I have two cats. One it doesn't affect. He just likes to lay in it on his scratch box and eat it. But the other one, hehehhe, it drives her nuts. She will fly though the house and jump up and down like she is bonkers.