potatoes - when unsafe?

India
2 responses

• United States
26 Jan 07
We have had many gardens in my life time and I have heard this about the green ones but all we do is peel off the green parts and we are fine and now about the spouts, You can eat them no problems there is nothing wrong with them sprouting. I am eating sprouted potates now where we had so many and now htey are sprouting bad I just break off the sprouts and peel them they sometimes look almost like a prune but they are ok. I have fried them, made mashed potates,cooked,baked, and I haven't had any problems.

• United States
25 Jan 07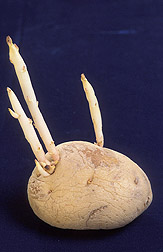 Yes I have heard that too. When lived out west we never had any potatoes turn green from the light. I would peel them deep. I have always used sprouted potatoes and see no harm in them. They are just harder to peel. I alway store my potatoes in a dark place. and never have trouble with them turning green.