What are the chances for Hilary Clinton to become the President of the US?

India
6 responses

• United States
23 Jan 07
*winces* Ehn..so far, from what I've read and heard all over the radio and tv..the people, most of them, seem to love her. Plus all the women here in the U.S. rooting for having a lady president certaintly doesn't help. And girls DO outnumber guys population wise. I think it's going to be a close one, it always is. I don't know. Something about Hilary makes me want to barf. I don't know what it is..she's just got an unexplainable "Eww" factor for me. Maybe she'll do a great job, I don't know. I'm torn between "Yes! First lady president ever!" and "No! Please Goddess don't let her win!" ...

• United States
23 Jan 07
Good Lord I hope she doesn't win. The mere prospect frightens me. One thing is for sure, if she wins the presidency, Americans will lose more liberties. Her husband worked us over pretty well by signing more Executive Orders during his terms than all previous presidents of the US combined. That folks, is not a good thing, that is a willful circumvention of the legislative branch of government. That is not a good deal people. I hope everyone can wake up and see this. I don't think her presidency will be good for anyone.


• India
23 Jan 07
90% chances are there that she will becomes the President of the most powerful country of the world and if she becomes in american history she will be first lady president.

• Romania
23 Jan 07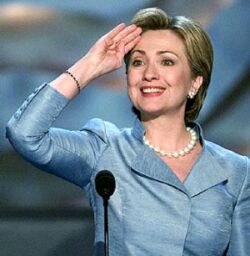 I think that she has pretty good chances to win the White House mandate. She's backed up and supported by her husband experience, is loved by the masses and her popularity is growing being opposite to GW Bush regarding war in Irak. It would be a most wellcome change to have a woman between the most powerful world leaders, if not the most powerful one!