Top male movies star's knitting? Well Russell Crowe can and a photo proves it.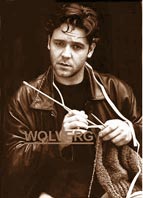 Australia
January 23, 2007 4:46am CST
I came across this photo last night, it shows Russell Crowe with a pair of needles and he's knitting. This is the butch Aussie bloke who gets so mad that he throws telephones at hotel staff. Do you think alot more actor's would be willing to do a photo shoot showing they could knit? Or is this realy just a publicity stunt by yarn companies hoping their sales rise or that more men follow in their hero's footsteps?
1 response

• United States
23 Jan 07
a couple of years ago i remember hearing about a lot of female actors were taking up the hobby of knitting. however Russell Crowe is a very "manly man", and certainly not one i would expect to see knitting! LOL but if it helps to relax and keep him calm..they go for it Russell!

• Australia
23 Jan 07
Some of the female actress' are Julia Roberts, Sarah Jessica Parker, and Drew Barrymore is one of the female actress who can knit. Another famous female who was known to knit was Elanore Roosevelt.