have you tried pasta salad?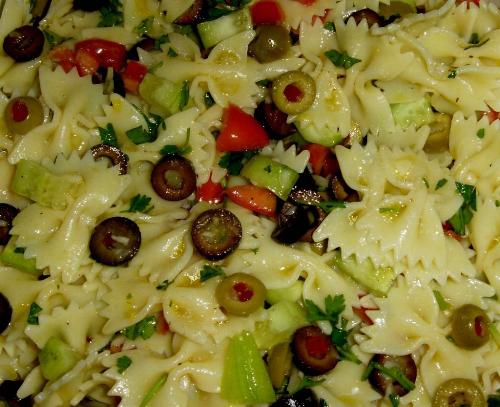 Philippines
January 23, 2007 12:11pm CST
Hey Guys, have tried pasta salad? I watched it from a show of Ainsley Hariot, one of my favorite chefs. I don't have all his ingredients so I settled what I got from home. I like it very much, it is one of the regular meals we are having at home now. It is light and healthy. Ingredients: 1 clove garlic - minced 1 onion (sliced thinly) 2 T.capers 2 tomatoes (finely diced) 1 Cucumber (cut into small cubes) a handful of black olives a handful of green olives 1/4 cup olive oil 1/4 kilo cooked ribbon pasta cheese of your own choice Salt and pepper to taste finely chopped parsley Prepare the dressing by combining minced garlic with the olive oil,capers and add onion and stir well until the aromatic flavors are blended. Add the rest of the ingredients and mix well. The amount is just up to your liking. Add cheese at the last minute before serving. This is very easy to prepare, just merely slicing and mixing. I hope you will enjoy this as much as we do.
3 responses

• United States
26 Jan 07
it's great also if u add to your salad recipe cubed roasted chicken meats & drops of lemon juice to the olive oil.

• United States
23 Jan 07
I love pasta salads!! It's lunch time right now and that's what I'm having today. My boyfriend made it and it's really, really, good! Besides what's in your ingredients listed above, he's added some sweet pickle slices, 4 different types of cubed cheeses, thinly sliced carrots, and thinly sliced green peppers. He uses a vinaigrette dressing, and when I make it I add Hidden Valley Ranch dressing. It's good both ways; I'll have to try your way with the olive oil, capers, etc. It's a good meal anytime throughout the day!