Children reading?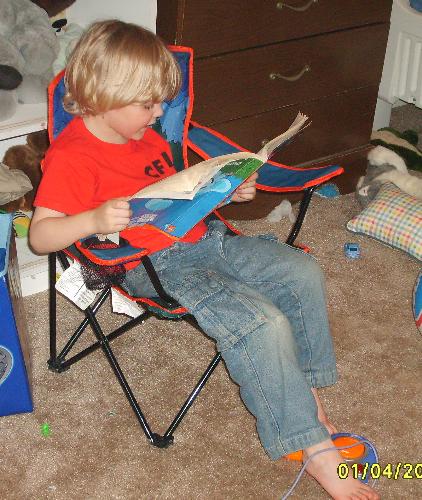 United States
January 28, 2007 3:31am CST
Who old were you when you first started reading? Yes I mean even the grade school "Dick and Jane" books. I am kinda impressed with my son and maybe I am just a doting father but my son has already taken an interest in reading. He is recognizing basic words and sentences and he is only four?! Have I pushed him too early? Will he end up like me and loose interest in reading?
5 responses

• Ireland
28 Jan 07
Your little boy is GORGEOUS!!! I think it's incredible that he's already recognising words and sentences! That's wonderful!!! and no I don't think you've pushed him too hard. I think that there's no age thats too early to encourage a love of reading / books! People / kids can lose interest in reading for all sorts of reasons, but I personally don't think the age at which they are introduced to books has much to do with it. If some kid is pushed hard to read, without there being any pleasure in it, then maybe they will lose interest yes. My little girl LOVES her books as well! Of course she doesn't 'read' yet, but she loves looking through them and 'babbling'! I can't upload pics yet into discussions, but I put one of her 'reading' a few months back on my profile page!

• United States
31 Jan 07
Thank you! i figure i'll keep him. But don't let him fool you, he's spoilt. We're big on Dr. Seuss books, and he loves them. Okay, actually, any book he can carry around he loves. He gets that from his mother. It's only through her that i've been sucked back into reading books.

• Ireland
1 Feb 07
I LOVE Dr. Seuss books!!!

• United States
26 Mar 07
Hey LJ...I just came across this post today and thought it was intersting because of the fact that your son is into reading so much. My 8 year old had a huge interest in it a a very young age. I think like 3 or 4. I used to read to her almost everynight. She'd bring me her Dr. Seuss books and have me read to her all the time. She'd giggle her butt off because I made voices for all the characters and her interest just kept growing. I don't think it sounds like you're pushing him at all, sounds like he just has an interest of his own and you encourage it. Good job dad!

• United States
27 Mar 07
My son is the same, and we've got a large selection of dr. seuss books and other ones. the other's are for me to read, LOL. my wife is queen of the tongue twisters, but i have some problems with them. we're also huge shel silverstein fans, with my wife and enjoying reading where the sidewalk ends, and a light in the attic. Although his favorite ones is A Giraffe and a Half. LOL We love books, and i'm so glad that he's picking up that habit also!

• United States
26 Mar 07
You really expect me to remember when I started reading? Oh goodness!!! Hmm... OK, I didn't read in K grade...that was nothing but organized play for a couple of hours a day. First grade...we were learning out ABC's and writing our names. Second grade...didn't get to do that because being put in foster care, they lost my records and so I skipped 2nd grade. So, third grade. And it was tough because everyone else was already reading...so I had to work very hard at it! K grade is different today than it was when I was little. They are actually learning to read! They are even supposed to know their phone number and address. Oops...still haven't taught my son that one. So, I don't think you are pushing your son too much. I think you are giving him a head start. So, good for you and your son! Congrats! :)

• United States
26 Mar 07
We love him, and he loves books! and oh..well. LOL our son doesn't start kindergarten until next year because his birthday is in november, so we have time for the address and phone number. Although it's probably a good thing he doesn't know it yet, or he'd tell everybody he meets right after he tells them his whole name and says, this is Queen Mommy, and this is Castle Daddy and it's nice to meet you. LOL the child doesn't know a stranger. And it scares the crap out of us.

• United States
18 Feb 07
My mom started teaching me to read around age 3. I had little books that I read, and also flash cards.

• United States
18 Feb 07
My wife works with our son and flash cards, because most the time she's got more patience, or maybe it's that he see's her more, so he understands it's not all playtime! But i love to go out with him and let him spell out names of places and then work through what the word actually is after he spells it. I hope this means he'll love to read for a long long time.

• Philippines
28 Jan 07
From what I remember I was about 5 years old back then. It started when my older friends gave some comics which was so popular in our community that time. That was when T.V.was still few to be seen in our location while radio lacks on visual contact to its listener. So most of my fellowmen were engage in comics reading.