How did you get your cat?

United States
January 29, 2007 2:09pm CST
Did you buy your cat, get her from a shelter, a gift or stray, I'd like to know. I have 5 cats. 3 of them I got from my sister-in-law when she passed away. She had 10 cats (all strays she picked up) and I originally took 5 of them (2 have since had to be put down and the other 5 I found good homes for them). The other two I rescued as strays this year. One I picked up at my church, she was just hanging around there and people would pet and pick her up but nobody took her so I did. I saw something was wrong with her mouth, one of her bottom fangs was over her top lip. The last one showed up on my block one day. She would follow everyone who passed her and would look up at them with her blue eyes (which she has kept) but no one again would take her, so I took her home.
6 responses

• United States
13 Feb 07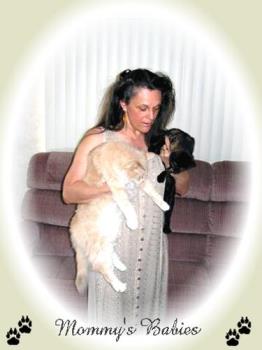 What a tender heart you have. I commend you, for your humane and loving ways. The cats are so blessed to have you. I got both of mine from the shelter. I rather get cats that nobody wants, as they need a home and to be loved. This is a pic of my two babies.

• United States
13 Feb 07
I'm glad you adopted both of yours, a lot of people don't understand that these cats need good homes and they make great companions. I went to your profile and saw your two cats, they are beautiful. The one with the bib made me laugh.

• United States
21 Feb 07
Thank you for looking at my profile. The one with the bib is our newest. We got her when she was around 6 or 7 months old. She is the sweetest animal, not a clue how someone didn't want her. Thank you for the best response too. I appreciate it.

• United States
29 Jan 07
I got my catfrom my front porch. My hubby noticed meowing from under our porch so he looked. He found a momma cat and two kittens. He brought them in cause we have a posum that comes around. We ended up keeping one of the cats and took the others to the pound. We still have him and he is the most perfect cat for us.

• United States
29 Jan 07
That is great. Please, do not use this thread, this is a duplicate by mistake. Thank you. There is another discussion with the same topic. Thank you.

• United States
29 Jan 07
By the way, I did rate your response. Thanks so much for replying.

• Australia
14 Feb 07
My current trouble maker was collected via freecycle.org :)

• United Kingdom
16 Feb 07
Our first two cats we got from a woman who was moving to Italy and obviously couldn't take them with her, they were longhaired brother and sister, our third cat we bought from a pet shop and our latest baby we also got from a pet shop. My mums cat we got from an animal rescue centre which personally I far prefer, I am not keen on getting cats from a pet shop because they are only in it for the money, I'm not saying they don't look after them but their main priority is their business not the welfare of the cats who are only in their care temporarily.

•
31 Mar 07
Well I have 5 cats, and apart from my oldest named Sasha, who came from an Animal Rescue Centre, the others kind of found me!I found WIlby n thwe woods near my home, - he had been dumped and beaten, - his back was injured and his paw was broken:-(( I heard him crying, picked him up, took him home, and he has been with me for years now! Frodo was just wandering near my office - obviously dumped, and lots of people were feeding him, but no one wanted to take him home, so I did. Henry was a stray ginger tom that I fed for years until he finally plucked up te courage to come through the cat flap, and from then on he never left me aain! And Lily was just 6 weeks old when I found her crying in my garden in the cold weather. I'm pretty sure someone dumped her there knowing I wouldn't turn her away.

• United States
26 Feb 07
My girl Misty. That is my older cat, she is 15 years old. I got her when she was 2 years old. I also have a cat named Angel, I found her outside of my apartment window. I got Misty from the ASPCA, I walked around the room a few times and she tapped me on my shoulder with her paw. I told my son...this is the one...Angel was crying, I had heard a cat crying for a few days and could not find her. One day she was outside on the ledge of the window. I thought that if I approached her she might scare and jump. I went in the house, got some of Misty's food and slowly went to the window and shook the food bowl at Angel. She was hungry, I put one hand outside the other window behind her and she came to the bowl, I grabbed her and took her home! To this day I know....she loves to eat! LOL!!!