The Waltons Pets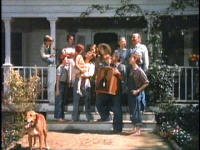 United States
5 responses

• United States
1 Feb 07
Rover the peacock and Chance the Cow and Blue the white mule lol

• United States
1 Feb 07
LOL - I never thought of it until you wrote it here but it is kinda funny "Blue the white mule". I loved Rover, one of my favorites!

• Canada
20 Feb 07
Haha!! That use to be one of my favorite shows when I was growing up. I had forgotten all about it until you mentioned it. Use to be such a fabulous show, I wish I had copies of it so I could show my children! Thanks for the trip down memory lane although I'm sorry to say it's been so long since I saw the show I really don't remember any of the pets.

• United States
20 Feb 07
We are very blessed, our local cable network runs 2 hours of "The Waltons" and then 2 hours of "Little House on the Praire" and then "Touched by an Angel" every week day morning. That's 5 hours of good family television!

• United States
23 Feb 07
Love those five hours - even my daughters who are teens like them. And I like that they learn what life was like in the different eras.

•
19 Feb 07
Family Pets on Walton's Mountain Reckless The Walton's dog Myrtle The Walton's goat, Daisy Mary Ellen's newborn lamb. Bullet Calf, offspring of Chance Pete Elizabeth's sick raccoon Jim Bob, Jr. Jim Bob's duckling Blue The mule given to John Boy by Granny Ketchum Chance The milk cow Lancelot (Lance) Erin's fawn that she eventually releases into the woods Gingerbread Myrtle's baby goat, named by Elizabeth Calico Elizabeth's cat Chirpee Grandma's canary Rover Jim Bob's peacock Nick Jeffrey's dog, named after Saint Nicholas Porthos Jim Bob's guinea pig Harold Jeffrey's cat. Think thats all of them lol

• United States
20 Feb 07
Well, I had a brain fart and seem to have misplaced the list I did up but I do believe you have listed them all, at least that I came up with. I love the Waltons!

• United States
1 Feb 07
There was also Lance the deer,Myrtle the goat,Elizabeths pet Pete the racoon,Elizabeths cat Calico,School guniea pig Porthos that Jim Bob brought home,Myrtles baby goat Gingerbread,Elizabeths horse Molly and the foal,Erins baby deer Sir Lancelot,Canary Jim Bob bought for Grandma Chirppy,Chances calf Dynamite,Jefferys cat Harold which ended up being a girl. Jim bobs Duck named Junior,Serena and Jeffery had a dog but I don't remember the name also Mary Ellen had a pet lamb in the early shows.

• United States
1 Feb 07
Oh my I forgot about Molly - the girls used her when they entered the race against the "boys". I do have the names of Mary Ellen's lamb and Jeffery's dog but am going to wait and give others a chance to add them. Besides those I can only think of one more pet and it was in several shows.