do you expect a gift every occasion?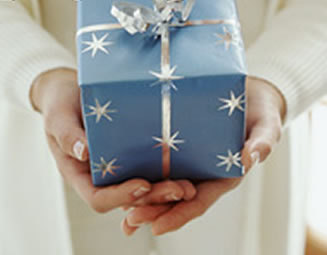 Philippines
10 responses

• United States
9 Feb 07
I don't expect gifts on every occasion, since most occasions have nothing to do with giftgiving, and sometimes gifts turn it into an occasion for people to expect more. My brother's wife and her family expect gifts on every occasion from Christmas to Earth Day, which is just ridiculous. I could see giving a gift to someone just to let them know you love them, but on every single holiday? And they celebrate birthdays all week long, which is nice, celebrate yourself and your life, but don't expect gifts from everyone all week long.


• Philippines
9 Feb 07
well me, yes, i want to receive a gift for every occasion from my boyfriend especially......i am a thoughtful person (i think so)..so i usually prepare gifts for almost everyone if there is a special occasion coming..but then im not implying that i will expect something in return for my gifts......i just want to feel loved also.....thats all...

• Oman
8 Feb 07
yes i do actually because i love receiving gifts. well i expect gifts from my close friends and loved ones and they have never disappointed me. i dont expect it from anyone else and if i get one from them its a very pleasant surprise. i always make sure i gift them too when its their bday or any special occasion

•
7 Feb 07
No I don't expect gifts, especially not from my partner because i'd always be disappointed - hah. But then he always manages to surprise me with really thoughful gifts when I least expect it, not huge gifts, but just little things to let me know he cares. To be honest, I don't like accepting gifts off people, it always makes me feel really guilty when I know that someone has spent their hard earned cash on me.

• India
2 Feb 07
yes i expect a gift every occasion . if someone give gift then why should i refuse it . i love gifts .

• United States
1 Feb 07
LOL... that's it... keep expectations low and be surprised when they go above the bar! I love that attitude!!!!!! lol

• United States
1 Feb 07
I don't expect gifts on every occasion and I think store bought cards are a waist too. They are very expensive. I would rather have my gift shown through love and maybe something nice written on a peace of paper would be sufficient enough for me. Alot of people open cards, read them and throw they away. I think they need to make cards that are reuseable and more people may buy them.


• Australia
1 Feb 07
That is a good way to protect yourself from disappointment, you must have a good disiplined nature...good on you...:)