boardgames???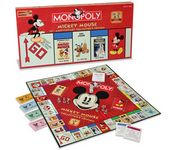 Philippines
6 responses


•
2 Feb 07
With the advance in technology and the rapid popularity of computer games and games consoles, board games are definately not as popular as they used to be. Me and my partner still occasionally play board games, our favourite is Othello, but we also like to play Jenga, cards and Monopoly. We haven't played Monopoly in a while though because the last time we played it I got so engrossed in the game that I sulked when I lost - lol!

• United States
2 Feb 07
I still like to play euchre, dominoes, 500 rummy, poker,and old maid and stuff like that. I don't think people have totally forgotten about board games. Alot of people are just more interested in their playstations and xbox360's to take time to play something else.

• Bahrain
2 Feb 07
i think although board games aren't as popular as they used to be, they will never lose their charm, it's always nice when family is over and sometimes there's nothing u do, u go through ur store, pull out an old favorite, blow the dust off and connect with friends and family over it. I like monopoly, scrabble(although i never find someone who wants to play it with me) and ludo.


• New Zealand
2 Feb 07
Our family loves board games. Scrabble is serious - dinner gets delayed when we play. Monopoly - Everyone becomes pretty mean. Chess, is just a matter of check mate. Draughts - we play between drafts. Dominoes, not quite a board game, but close enough. Mahjongg - we gamble when adults are around. But what is the best Board game of them all? We vote for scrabble. Cheers.