How long can you keep meat in the freezer?

United States
4 responses

• United States
8 Feb 07
If it wasn't wrapped well, i.e. in a sealed container or ziplock bag, it could suffer from freezer burn. This won't make you sick, but the meat won't taste very good.

• Egypt
9 Feb 07
For best freezer storage, temperature should be 0 degrees Fahrenheit or below. Maximum temperature should be 5 degrees Fahrenheit. Check temperature with freezer thermometer or outdoor thermometer. If no thermometer is available, use this rule of thumb; If freezer can't keep ice cream brick-solid, temperature is above the recommended level.Do not store food for more than one week in a freezer where the temperature is above the recommended level. Date food packages with an expiration date according to maximum storage time recommended below. Longer storage is not dangerous, but flavors and textures begin to deteriorate. For packaging, use heavy-duty foil, moisture- and vapor-proof plastic bags and wraps, freezer wrap or freezer containers.When folded, foil may develop pinholes, resulting in freezer burn. Pick up frozen commercial foods just before going to the checkout counter. Purchase only foods frozen solid. Place in home freezer as soon as possible. Cook or thaw according to label instructions. Freeze home frozen foods in the coldest part of freezer. Within 24 hours, freeze no more than three pounds of food per cubic foot of freezer space or one-tenth of freezer capacity. Don't try to freeze a quarter of beef in your home freezer.Bring it home from the butcher after it is frozen solid.

• United States
8 Feb 07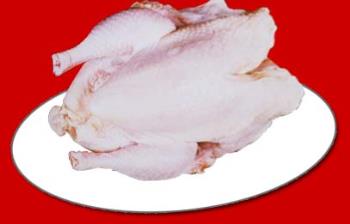 A chicken can be kept in the freezer up to 12 months if it is properly wrapped and still be safe to eat. If your chicken has white spots on it that is freezer burn. It is still safe to eat but will not yaste as good. You can cut those white spots off and the chicken will be fine.