homemade pizza vs restaurant pizza

United States
8 responses

• United States
10 Feb 07
I think it really depends on where I'm eating the pizza, some restaurant pizza is delicious. However, we used to make some great homemade pizza when I was a kid, and I ate so much of it because it tasted wonderful. We haven't made any in years, so I'm left eating out.

• United States
10 Feb 07
I like home made pizza too.. I also do one (when the kids had company over) where I would brown and drain hamburger meat and a little bit of onion and or bell pepper, and mix that with pizza sauce, and spread that on hamburger buns sprinkled with a little salt and pepper and then shredded cheddar (it melts easy and easier to chew), sometimes added pepperoni and mushrooms, depended on ages of kids, and baked in the oven until cheese melted and buns were toasty on the edges.. easy to make, and loved by everyone.... even adults.. they were alot like mini pizza's.. and cheap to make and fed alot of folks.. (two packages of hamburger buns halved makes alot to eat..lol) I made those for so many years, I don't know If I could get an actual pizza crust rolled out right..lol

• Canada
10 Feb 07
Restaurant pizza is better, tomato sauce, cheese, peperoni and pizza hut's pizza are the best for me

•
9 Feb 07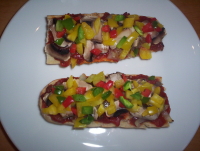 I prefer home made pizzas as well. I tend to just stick on whatever veggies I have and sometimes some soya cheese. My favourite is french bread pizzas: http://www.recipesforvegans.co.uk/frenchbreadpizza.html

• United States
9 Feb 07
I'll take homemade any time I can get it, which never happens any more. I used to make it from scratch--dough, sauce, the whole nine yards. But I live by myself now and making pizza for one person just isn't on my priority list. :-)

• United States
9 Feb 07
Nothing compares to Dominoes pizza. We do have our own pizza from time to time, however, we really like to on pay day have a meal from out somewhere. Now and then it is pizza. And it is Dominoes. I have a pizza maker with the base, electrical and a a lid with vent. It turns out some real food pizza that way.

• United States
9 Feb 07
I rather have homemade pizza too, unless I'm in the mood for stuffed. I can't just get that one taste the same or better than restaurants... onde day I might, perhaps...who knows...

• Canada
9 Feb 07
i prefer restaurant pizza, mostly so i don't have to cook (ha,ha,ha). . . but my fiance loves my homemade pizza and never wants to eat it in a restaurant anymore because he says i make such good pizza. . .that'll teach me for cooking good for him (ha, ha , ha)