What is your favorite pet? And is your gallery dedicated to that Pet?

United States
6 responses

• United States
10 Feb 07
My favorite neopet is the Aisha. I have a side account gallery with all Aishas and that gallery dedicated to the Aisha. I think I like aishas because I like cats (and the Alien Aisha is my dream pet, and I'm still waiting for a Fountain Faerie Quest) I've been on neopets for about 2 years now.

• Germany
10 Feb 07
You are exactely like my friend. She is a real aisha addict!

• United States
26 Dec 10
I don't think I had any galleries or whatever and I have no idea what the Ogrin is... But my favorite pets were the Lupes and the Eyries. I always wanted a Darigan eyrie but I ha da pirate lupe and I was happy with it.

• Philippines
21 Feb 07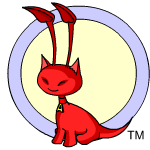 My favorite pet is my Aisha because of her exotic looks. I don't have a gallery in neopets because I'm still saving up to buy things.


• Germany
10 Feb 07
My gallery is dedicated to the one and only Jhudora. Well, my favorite pet would be the kougra. I finally painted mine Halloween. Looks really nice

• United States
10 Feb 07
I think that the Shoyru is my favorite but I think that the Kiko is cute too. My gallery has nothing to do with me pets; it's all the haunted, scary and spooky things that I have collected over the past three years. I zapped my Shoyru with the lab ray a few times and it changes species on me, now I am zapping my Grundo. The Bori that I started out with is now a Robot Kiko and the Poogle that I picked up on Poogle day is now MSP.