u use specs?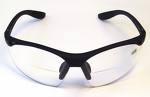 India
February 10, 2007 11:11am CST
why do u use it?short sightedness or just for sytle?
5 responses

• Romania
11 Feb 07
i have one pair but don't use it. even though i should. the bad thing is that i start needing them because after a long day i can't actually read much. i hope i will get used to them because otherwise... can anyone give me a good advice on how to start wearing specs? i simply can't stand them. i feel them all over my face. what to do?

• India
11 Feb 07
I do use specs. I am having specs since last 10 years. I cant see propely if I don't wear specs. Its not for style, its my necessity....

• Canada
10 Feb 07
I wear glasses, I am shortsighted and as well require bi focal. I developed cataracts 2 years ago and hopefully they will be removed soon, as everything is fuzzy, and I have difficulty in face recoginition.NOTE.I have worn glasses for 59 years, and do not mind them, as they are part of me

• India
10 Feb 07
Yes, I use 2 types of glasses for short-sightedness. One is bifocal for reading and seeing other things at a distance. The same specs I cannot use for seeing computer, so I have one more with the same power with power gradually decreased from top to bottom.