Have you made friendship bracelets?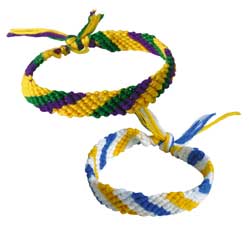 United States
February 20, 2007 1:32pm CST
My SIL gave my youngest daughter a packet of embroidery floss and directions on making Friendship bracelets this weekend. We were visiting my inlaws for the weekend, so we spent most of the weekend making unique bracelets. It was a lot of fun! Do you make friendship bracelets? What's your favorite design or pattern?
9 responses

• United States
20 Feb 07
I work at a camp in the summer, and we spend lots of time making friendship bracelets - they are so colorful and cute! They're also a great way to let someone know you're thinking about them. My favorite ones are the chevron pattern - it looks like a V shape running down the bracelet.

• United States
21 Feb 07
Friendship bracelets are so cool. My grandaughter got a kit for Christmas to make friendship bracelets. It had really small beads and she is only 3 so we ended up making the bracelets for her. She picked out one a piece to give to us. She passed the rest out to other family members. She would go up and say "trick or treat" and give them a bracelet. LOL we never did figure out why she said trick or treat. LOL

• United States
21 Feb 07
We make all kinds of friendship bracelets in our Girl Scout troop then we travel to Canada in September for a picnic. There are about 4,000 girls that attend this event. We swap our friendship bracelets and other items that we have made with the other scouts. It is really fun to see what you end up bringing home.

• United States
21 Feb 07
Wow! It has been so long since I've made friendship bracelets. I loved just doing the basic stripes. Good luck with them. :)

• Canada
21 Feb 07
I loved doing those as a kid. I never really figured out how to do anything more than stripes, diagonal stripes, or chevrons. I think I got distracted by knitting.

• United States
22 Feb 07
Wow! I haven't made a friendship bracelet since highschool. I used to love to make them and wouldn't mind doing it again with my kids.

• United States
23 Feb 07
My daughter makes friendship bracelets alot..SHe loves anything crafty. Right now she is into making hemp anklets. They are ok-- My 15 yr. old niece got her into those.. Beads and charms. I can remember making friendship bracelets when I was a kid-- It's funny how some things don't change much! And what a great- cheap way for kids to do something crafty and fun!

• Canada
23 Feb 07
I used to make lots of friendship bracelets- they're such a fast easy craft for kids. I haven't done any in years, but I used to weave names or words into them instead of stripes or chevron patterns, I remember doing one with 'best friends', and one with red hearts and 'love' in the middle, things like that...

• United States
22 Feb 07
Wow, I haven't even heard of people talking about them in so long, but they were so fun to make when I was growing up! I loved them! When I have kids maybe they'll be around during that time (which hopefully won't be too far away - the having the kids part) :)