People walking on footpaths.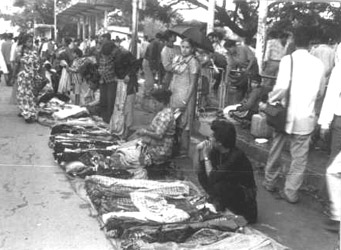 Israel
February 21, 2007 3:40am CST
Footpaths are made for pedestrians, so that they can walk safely and avoid accidents. But I have seen lot of hawkers and local businessmen selling there items on footpaths, covering almost all place and leaving no space for people to walk and so the people are foced to walk on roads inspite of heavy traffics , which can be dangerous. Also I have seen people parking their cars on footpaths, specially in front of garages and the reparing work is done in the middle of the footpaths. Do you think this is right. Are their any laws for this. Why police is careless about this.
3 responses

• India
24 Feb 07
Well, there are lot of facets of this issue: * People selling commodities on a footpath are basically poor people, and they can not afford, a proper, and legal shop, and its maintenance. This problem, in the deeper sense, has its root in the administration, as the government has failed to provide basic facility to those people. I think, its government's job to make sure that those, who cant afford shop expenses, should be granted a proper place. * The above might seem to be asking too much, but then, if you observe, you will find that a complex adminstration is already active here. The local 'policewalla' becomes 'government', and charges some 'illegal' money from those hawkers anyways. So, all that needs to be done, is to make it 'legal'. Take some money, that's ok, but document it, and provide those hawkers a little space, where they can carry on their business. * I dont think I have had any real problem in finding my way on a footpath. Yes, at times, it becomes a little unesay beacuse of those hawkers, but I never have to step down on the road. I think you can also do it, with a little practice. * I hope you would admit, that those hawkers are not all pain, and at times, one often finds a very good bargain there. I dont think it had been to too long for you, when you last saved a couple of 'sheqels' by successfully bargaining with those hawkers! Cheers!

• Israel
24 Feb 07
Yes I have to say that you have said the truth. Before blaming these hawkers, we have to think, why are they doing this. Yes poverty and poor economic conditions lead to this. Ok ok you win again.....as I said I see future pm of India in you. May be when you become pm then you will look into this problem......lol. Have a nice day

• India
21 Feb 07
Your concern is very true. Even if police wants to intervene then for short duration these hawkers disappear and they come again as soon as the police has left.At times police is also corrupt and charge some fees to let them there at foot path.

• Australia
21 Feb 07
Yes it make me mad when you walk down a shopping strip and they have stalls out the front and the cafe's have tables and chairs when there is hardly enough room for people to walk in two directions, here in Australia it is just a matter of that particular council getting more money which I think is wrong, footpaths should belong to the people...

• Israel
21 Feb 07
It is all our fault, we just keep quite and suffer. If there is no place to walk ,we are ready to risk our life by walking in the middle of the road, but we have no courage to open our mouths and speak against this or do demosnstrations etc. because we are simple middle class peole and we have no money and no power. It really irritates me.