12 inch baby really amazing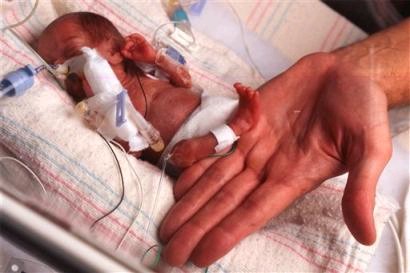 United States
4 responses

• India
22 Feb 07
it is amazing,GOD Bless the Baby to survive,

• Ireland
22 Feb 07
My daughter had two babies who weighed less than that. Her first baby was born at twenty weeks gestation and weighed only 1 lb 8 ozs. She is now fourteen years old and is pefectly healthy. Her second baby was also born at twenty weeks gestation and weighed just 1 lb 6ozs and she is now ten years old. Both are doing really well and nobody would ever guess that they were so tiny. I have all the photos that were taken of them while they were in the hospital.

• Canada
23 Feb 07
Yes I saw this wasn`t it on the news ? I couldn`t believe it either . Lucky little one . Could you email me the rest of the pics please ? Thank you

• United States
22 Feb 07
that's incredible that tiny bit is alive! the smallest infant ever born alive and struggling is under a pound. i saw it on the bbc. she weighed just 10 oz.