Animated Name- Adrienne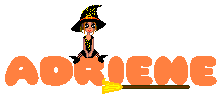 Australia
4 responses

• United States
22 Feb 07
LOL. I am lost on this one for sure. this is so weird because this is my daughter's name. It is spelled exactly the same way. I thought I was seeing things when I came across this discussion. What kind of animated name are you talking about? Maybe I can help is I knew a little more of what you are looking for. You can message me if you like.

• Australia
28 Feb 07
Such a nice name lilaclady, was it the name of the host who was on Wheel of Fortune with John Burgess years ago? Now I am getting the brain to work hard on this one!

• Australia
28 Feb 07
gee thats over working the brain a bit, you better have a rest now....:)


• United States
23 Feb 07
This is pretty cool too. I don't know anyone by the name of Adrienne but I'm sure who ever she is will like it. Thanks for sharing.

• Australia
23 Feb 07
yeh I only had one for this name as the spelling is a bit different, I hope she likes it...:)