An Unintelligent Topic!


United States
8 responses



• United States
25 Feb 07
Cavemen didn't do it for me either. I'm not crazy about the little green guy but he is at least better than the cave guys.


• United States
26 Feb 07
I agree with you, I love the Gecko commercials. I never found the cavemen commercials to be appealing. The Gecko ones are cute and inventive, they need to stick with him.


• United States
26 Feb 07
i love the gecko. i really don't like the cavemen in the commercial. they're not cute at all. they're not really funny either and they really don't fit the commercial like the gecko did. bring back the little guy lol

• United States
26 Feb 07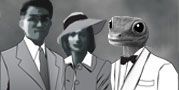 I like him, much better, and I was always being fooled by commercials that would start out appearing to be for one thing, then end up with The Gecko. LOL! There are lots of shots of him online. I do not automatically associate the Caveman with Geico like I do the Gecko.