Wow Another Dessert for Diabetes!!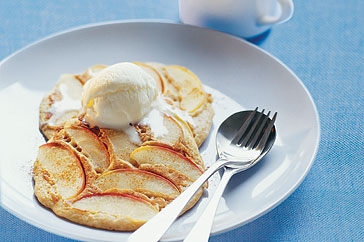 Australia
February 26, 2007 10:02am CST
Cinnamon Pancakes 1 1/4 cups wholemeal self-raising flour 1 tablespoon caster sugar* (we do not have to have this) 3/4 teaspoon baking powder 1/2 teaspoon ground cinnamon 1 cup reduced-fat milk 2 eggs 1 teaspoon vanilla essence olive oil cooking spray 2 pink lady apples, quartered, cored, thinly sliced 4 scoops low-fat vanilla ice-cream, to serve Method Sift flour, sugar, baking powder and 1/2 teaspoon cinnamon into a bowl (add husks left in sieve to bowl). Make a well in the centre. Using a fork, whisk together milk, eggs and vanilla in a jug. Pour into well and mix lightly with a fork until just combined (do not overmix). Heat a large, non-stick frying pan over medium heat. Spray lightly with oil. Pour 1/4 cup batter into pan and gently spread to about 12cm diameter. Working quickly, top batter with 1 layer apple slices. Cook 2 pancakes at a time for 2 minutes. Carefully turn and cook for a further 2 minutes or until firm to touch. Place on a plate. Cover to keep warm while cooking remaining pancakes. Serve warm sprinkled with a little of the remaining cinnamon and a scoop of ice-cream. Notes & tips*This is a healthy occasional treat for people with diabetes. Use a low-calorie sweetener and stone-ground flour to help lower the GI.
3 responses

• India
1 Mar 07
The goal of juvenile-onset diabetics should be to reduce their insulin requirement to a minimum while maintaining the best possible health, especially of the cardiovascular system, through attention to diet, exercise, and stress reduction.

• Canada
26 Feb 07
wow.... its absolutely yumm... i have noted down this recipe..it can be useful for calorie conscious and diet conscious people like me..:-)

• United States
26 Feb 07
I have seen many recipes calling for caster sugar. Many of the recipes that I find for Dutch cooking uses it. Thanks for the recipe. I love pancakes and so does the Hubby.