My wife's best friend is dating an Indian Guy. She's White.

United States
February 26, 2007 10:50pm CST
Okay, first before someone yells at me, we don't care. We're both of the firm belief that as long as the person treats you the way you want to be treated, and that you're happy, skin color and nationality don't matter. Now, that's out of the way,*smile* let me ask you guys this. My wife and Chris have been friends for about 13 years. Nothing is sacred with those two, they've been friends too long. Chris(tie) has had some pretty crappy luck with men and relationships, but there's this guy, Chirag, thats in american on a school and work visa, who's awesome to her. He's sweet, attentive, cute (according to the women) well mannered, and just treats her very well. They're happy together. But apparently he's reached that certain age where his parents are looking for mates for him. Let me clarify, his parents are in america, they immigrated, and he's here on a visa, but he wants to take Chris to meet them, but is very shy about the fact that she's white. I wasn't aware that arranged marriages were still that common anymore, much less in America. Tell me what you think, or if there's something i don't know about the Indian Culture (which is a lot i'm sure) and if there's any advice you could give them. I'll take any input! and once again, it doesn't matter to us that he's indian. she's happy, he's nice, we're good. LOL
9 responses

• New York, New York
27 Feb 07
I feel sorry for her, I am afraid she is going to be the one to get hurt. I think he is going to let his family dictate his life. I wish that the both of them can stay together regardless of what anyone says but there is a good chance Chris will loose and Chirag will do what his family wants. This is such a akward situation. He needs to be strong and make his own decisions. I wish them the best.

• United States
28 Feb 07
Thank you. I'll be happy to pass that on! I'm afraid she's going to get hurt too. I want her to be happy, and treated the way she wants to be treated, but i'm afraid she's investing too many emotions in this too early. She's actually supposed to fly down with him over spring break and meet his parents, so we're keeping our fingers crossed!

• India
27 Feb 07
First of all love is the most important thing, bigger than any nationality or caste. But to tell you I myself am from India and I would like to tell you rather make you aware that here inIndia or i should say that grown ups of Indian origin, most of them are not of very open minds and some still treat as caste, creed and nationality as big issues. But as well if love is there one can stand against anything so go on. And one more thing its not really a custom or culture for casteism, its just some awful backwardism in thinking pattern.

• United States
28 Feb 07
Thank you very much for responding. I was hoping that i would get responses from people that are in India that could help me understand. I'm afraid his parents are going to be very close minded against her, as she is similiar to my wife in that she's a strong intelligent woman. Not one to back down easy, which may be exactly what she needs in this situation.

• Canada
27 Feb 07
Often even when a family moves from their homeland to America, they will hold on to their cultureal values and traditions. I understand that if white is a problem it will be with the indian family and not with her family. OK, I see that. I don't agree with it, but I see where you are coming from. What the man needs to do is confront his parents and say that THIS is the woman he wants to be with, and they can acept it or not!! My step-dad's family dind't like my mother because she was divorced and that went against their religion. That alsmost broke up their union, but just before they got married they made peace with his family, and now everyone is happy. If my family told me who to date because of culture or any other reason, I'd tell them where to go!!! I am going to choose my life, not them!! Your Indian friend needs to choose his life, not live according to what his FAMILY says.

• United States
28 Feb 07
Well, we don't know our indian friend that well yet to be able to give him a kick in the butt. However, we do have sympathy for him in that going against his parents wishes is against everything that he was raised as, and we know it'll be difficult. But, we agree. He needs a kick in the butt..just not yet. We'll give him some time.

• United States
27 Feb 07
Maybe his family wil react better than he thinks. You never know. My ex kind of freaked out that I wasn't Jewish, but we were together for a long time, although not anymore.

• United States
4 Mar 07
I think if this is the person the gentleman wants to possibly be with...he is going to have to swallow the lump in his throat and ask up to his parents. The saying, When in Rome, do as the Romans do...is a good saying for this situation. If his parents immigrated here, there must be something that the parents like about this country. And if they are willing to embrace it enough to leave their country for another, they need to be willing enough to accept the American culture/customs also. He can use that point to his advantage. Not saying that they will be completely willing. They grew up with customs that were perfecting acceptable to them. So, it is only natural that they do the same as they were raised. AND if he does not speak up, then they will not know that he would prefer to find his own wife or that he is even interested in another. Advice...he needs to talk to them and then ask them to agree to meet her.

• United States
25 Mar 07
Actually, *sighs* as i put this discussion up, and things have happened to them. She went with him over spring break to meet his parents. They hate her. She's white, and i really hate to say it like that because i don't really agree with any kind of racism. But they gave her a really tough time and she called my wife in tears a couple of times. but i have to give him credit, he stood up to his parents and said he didn't like the way that she was being treated by him. which from what i've heard from my other friends that are indian, for a child to stand up to his parents like that is virtually unheard of. So i hope this means good things for them, that he'll stand up for her.

• Indonesia
28 Feb 07
I think what you need is some Indian opinion right ? well your title is so wrong.. No Indian will ope such a title like that. It look like you are racism. So I suggest you start another discussion with another title that will attract Indian responders, like "How do people arrange marrieage in India ?" or just simply "Indian marriage", or "Does it always parents that control marriage in India ?" Good luck !

• United States
28 Feb 07
Thank you for the advice. I was hoping that people wouldn't look at it as racism, rather look past the title to the first sentence. Offending someone because of skin color or beliefs is the last thing i set out to do. No, if i insult someone i do it because i dont' like them. LOL And if they get offended, well, they should bother to look beyond the title, right? Not everything is always what it looks like.

• Malaysia
28 Feb 07
I am an Indian citizen staying in Malaysia & my wife is malaysian. I can relate to this situation as having a partner of different culture, language, country, background etc. These things still do matter with Indians. Many of people have no more objections with mix marriages but i think the most important is to find out if Chirag is bold enough to backup chris. I mean Chirag shud be able to support her all life even though she is white. If he is not bold enough or proud enough of her then chris should take more time.

• United States
28 Feb 07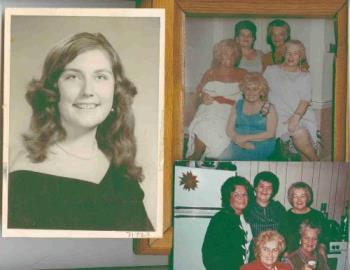 When my father brought my Turkish mother home to the USA, his family had fits! They were Catholic and she wasn't and would not convert (Dad left it up to her). When I was born 2 years later they really went wild about baptizing me and she woudnt have it done. Let me say, his family were NOT Mass goers and even today, I cant see their "religious values" being so high and mighty. I figured it was really about her being so light skinned in a family of olive-green and they wanted to keep it that way. Eventually things were down to a low boil until my grandmother passed away. Where? In my mother's house with her nursing her to the end, because there was no room at the other relatives' homes.

• United States
27 Feb 07
If Chris is not up to an arranged marriage (which I'm assuming she isn't) she should let Chirag know, and if he truely respects her he will either tell his parents not to bring up the subject - that he will bring up the subject if & when he chooses; or he will ask his parents to drop the matter if he hadn't spoken to them prior about it. As for Indian Culture, I am not entirely educated about their culture, but I believe that when blending people of different origins they should learn about each others backgrounds & traditions. Then they can find areas to compromise. One example is I am hispanic & my husband is white. My husband has high blood pressure, so when I cook mexican foods I try to limit the menteca (lard) or (like with tamales) I use beef/pork broth - it adds flavor, I still get to cook fod from my past & it's healthier than the original recipe that I was taught. Compromise is the key in relationships :)