Great dude, this man, Johnny!!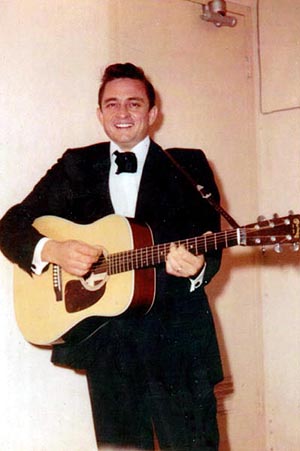 India
February 27, 2007 8:44am CST
It was just recently that i began listening to Johnny Cash. I was blown off my feet. it was akin to being transfered to the golden ages....drifting away slowly....carried by the beautiful songs of J.Cash. Man it was a fabulous experience. I am dying to watch the movie " I Walk the Line".
9 responses

• Romania
27 Feb 07
50's... 60's... those are the times, golden ages, as you described it. I'm also an true admirer and listener to evergreen music, classic rock-and-roll and such. If you like listen to JC you should indeed see "Walk the line", a winner of one of last year Oscar for (being said that it was for leading female role - Reese Witherspoon).

• Canada
27 Feb 07
Johnny Cash was and will always be an idol. He influenced so many people with his song and music. It was a sad sad day when he got called home. "Walk the Line" movie was great. Reese Witherspoon played June, Johnny's wife and won an Oscar for her role. Awesome movie.

•
2 Apr 07
My Uncle played in a band in the 1960s and 1970s and that's when I first heard Johnny's music. Great music and great lyrics - looking back on how I've grown up I think I've been seriously influenced by his song 'Man in Black' as I've developed a very strong social conscience....and almost invariably wear a lot of black! :-) Have you guys read is autobiography - that's a great book. As well as his original stuff, the work he did with Rick Rubin in the 90s is astonishing. The song that always makes me cry is his cover version of the song Hurt, and his versions of U2's "One" and Bruce Springsteen's "I'm on Fire" are truly awesome. The guy was a genius - enugh said. The epitome of rock and roll, human in his failings, proud of his Christian faith. What an amazing guy. Thanks for it all, Johnny!

• United States
29 Mar 07
I had the privilige of seeing June and Johnny about 12 years ago. They held a tiny "concert" in a church in Kansas City, probably only about 250 people in attendance. It was awesome! After they performed, they came out and sat down and just talked to people. He was a normal guy, full of life and love for June and his music. He is sorely missed.

• Canada
19 Mar 07
I've been in love with Johnny Cash since I was 3 years old. My parents had some of his records. I always blame Johnny Cash for my fatal fascination for black haired men in black. :) "Walk the Line" is a great movie - Joaquin Phoenix nails it, and I highly recommend it. You should also look for books that tell you something about Johnny Cash's life after the period shown in the movie, as he went on to do some great things, and he helped a lot of people get a start in the country music business. He also stood up for what he believed, and wasn't afraid to make a statement. I'm glad you've found his music, and I hope you continue to enjoy it!

• United States
18 Mar 07
The movie is wonderful. You have to see it to truly appreciate the life of Johnny Cash. I have a friend who has a tattoo of him on his entire side of his torso. It is AMAZING.

• Australia
15 Mar 07
I was privlidged to see Johnny Cash in Melbourne 50 years ago. I loved him then and still do. His music has real meaning, and carries his soul. A true superstar.

• United States
5 Mar 07
The movie was great. I would recommend reading his biography before seeing the movie. That's what I did, and I was able to recognize major events and subtle clues throughout the whole movie that would have gone over my head had I not read the book. I read "Johnny Cash: The Biography" by Michael Streisguth.