Boboli Pizza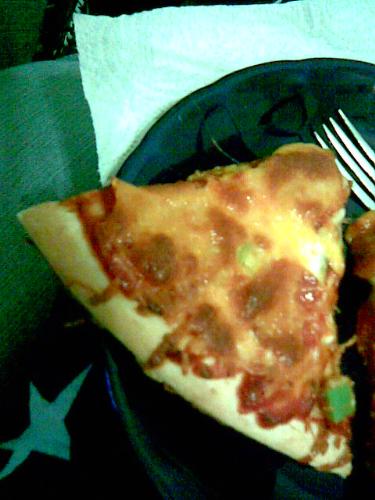 United States
March 6, 2007 7:02pm CST
Has anyone ever made homemade pizza using the 'Boboli' brand pizza crust?My dad used to make Boboli pizzas with my sister and me when we were young. Every once in a while I buy one and make myself a pizza. I did tonight. It's SO good.:) Pepperoni, lots of cheese and green bell pepper. Have you had Boboli? What toppings do you like?
5 responses

• United States
7 Mar 07
My husband and I used to make the little Boboli pizzas because it was easier to put the toppings on that each of us wanted. I notice that now they have a whole wheat crust out and since we are always trying to eat a little healthier, I thought I might give that one a try. As for toppings, I like about anything, not a big sausage fan...favorite is green olives, onions, peppers, and pepperoni...mushrooms too...LOL

• United States
7 Mar 07
Yum!! I have not tried the whole wheat ones but I bet they are equally as good.

• United States
18 Mar 07
i cant say i have try that yet, maybe i will give it a world down the road, but i used to work at a pizza crust place, i took tons of the pizza crust home and make pizza off that it is was awesome

• United States
16 Mar 07
You know what? I don't think I ever have. I would like to try it though. I would make one with sauce, extra gooey cheese, pepperoni and fresh mushrooms. Gosh that sounds sooo good!

• Canada
7 Mar 07
Yes, I liked the Boboli crusts. Lately I've been experimenting with making my own, though. I like pineapple, green peppers, and tomato on mine.

• United States
7 Mar 07
We used to make Boboli pizzas all the time when we were younger. I haven't made them a lot since then but last year when I was visiting with my sister, we made an awesome one with frozen breakfast sausage links. Cut them up and put them on the pizza and by the time the pizza has cooked, they have thawed fully and because they are considered "pre-cooked" there is no need to worry about the possibility that they might still be raw. I've made two since the one with my sister. One with grilled chicken and ham and the other with slices of the chicken & apple sausages from the supermarket. It was so yummy!!! :-)