Semiprecious Gemstones...


Australia
March 7, 2007 2:00pm CST
I work a lot with semiprecious gemstones. I love Fluorite and the way it's in layers of purple, clear and green. I also like Turqouise for its texture and colour variations and my absolute favourite is Jasper. It is known as "the supreme nurturer" and i'm very drawn to it for some reason. Are there any gemstones that are your favourites? Do you know their meaning or are you drawn to anything in particular? Can you feel the power of the stone when you hold it?
7 responses

•
7 Mar 07
I don't make jewellery but i use a lot of the stones within the field of metaphysics. The power with each stone vibrates at a certain level giving it a signature to the intended use of it. Even though the stones all have a vibration, each one is an individual and that is why some people are drawn to a stone over another gemstone. Its like they call to you and then you respond.

• Australia
8 Mar 07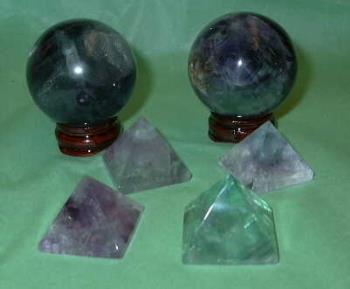 That's fascinating silverlou. I met a healer once who had a fluorite wand on her. I had not long broken my wrist and she waved the wand over my injury and I could feel the warmth coming from the crystal. I was truly amazed. Thanks for your informative response! Fluorite is the ultimate stone of Well Being. It provides purification, cleansing, and eliminates that which is in disorder. It works within the physical, emotional, and spiritual systems, bringing a sense of calmness and peace. It's multi-colors enhance all aspects of well being, notably the purples for wisdom and intuition, and the greens for healing and abundance.

•
8 Mar 07
You really know the stones don't you, its marvellous to know somebody is so aware of the character and the philosophy behind the stones used and it is especially important for the person who makes the piece. I would imagine, the jewellery you make for people fills them with warmth and affection, as your energies are transferred onto each piece you make and your energy harmonises with that of the stone.

• Australia
8 Mar 07
I love everything about stones and crystals - the history behind them, the folklore and mythology, their healing properties and where to wear them on the body for maximum benefit. Each piece I make, is made to the best of my ability and then "road tested" by me and my husband who tries to break it! I'm happy when i'm making jewellery with crystals and gems and I hope that this energy does get transferred to the end user. Thanks for your comments! lol

• Philippines
8 Mar 07
Wow! I can say you really knew by heart your trade of business and I admire you for it. I really love diamond but I have only one and also my birth stone which is somewhat blue I'am a march but I really don't know what is called I kept it with me in my wallet as a luck. I think my birth stone gives me luck with some particular business dealings that's why I always have it on my pocket whenever I'm on a business transaction.

• Australia
8 Mar 07

Being in March, your birthstone would be Aquamarine which is a light shade of blue. Traditionally it is thought that Aquamarine protected seafarers and those in battle. So, I guess it does give you luck if you consider your business transactions to be little battles! Thank you so much for responding friend lol.

• Philippines
9 Mar 07
Oh!my feralwoman that was amazing I was a aquamarine and my husband is a seafarer and I was a reserve navy of my country. It was shocking revelation to me I really dont know how that was really related to me that's why I love the sea and all that associate with it even my first course if associated with sea because of the port operation. Gee, your superb my friend make me really LOVE my birthstone more...

• United States
8 Mar 07
I really like Amber. I especially like the pieces that have a rich orange to a deep red tone. The first jewelry piece I ever made with using Amber, so it has a bit of sentimental value. In general though, I feel like it has a lot of power.

• Australia
8 Mar 07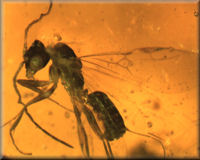 Hi there! Amber is one of the organic gemstones, being fossilized resin of pine trees. As such it varies from about 20 to 60 million years old, according to different sources. It appears surprisingly light and warm to the touch, and readily produces static electricity when rubbed. Indeed it was known to the ancient Greeks as elektron, and it is from this that we have obtained the word electron for the negatively charged particle, and also the word electricity. I like amber too, especially the ones with insects in! Thank you very much for responding lol.

• United States
8 Mar 07
This is a great topic! Thank you so much for sharing all your knowledge.

• Australia
8 Mar 07
You're welcome. I love anything to do with crystals and stones! Guess i'm a bit of a rock fiend really! lol

•
8 Mar 07
I used to do a lot with Crystals, but I've got very uncomfortable with the way they are mined from the earth. while some are better than others it's often not too ethical towards the people working them, and can be damageing to the wildlife. so I've not bought crystals for some years now. from before then, Opals are my thing. especially black opals. I have a black opal silver ring, a watch with opals set in the band and a few others. I have an overwhelmingly friendly calcite shere. everyone likes to sit and hold it. but I've honestly found, since moving away from mined stones that a Hagstone is a really quite fantastic stone to work with.

• Australia
8 Mar 07
I'd never heard of Hagstones up until you mentioned them. I did a bit of research and found out these interesting facts: Hagstones are stones that have a hole running all the way through them, and are usually found in streams or rivers, and at the seashore, where running water has created the hole in the stone. This may be one of the reasons why they are considered so powerful, as it is a common belief that magic cannot work on running water, and these stones have been holed by running water and so retain that influence of protecting from magic. A Hagstone Hagstones are also known as Holy Stones, Holey Stones, Epilates Stones, Wish Stones, Nightmare Stones and Witch Riding Stones. They were ascribed with the power of protecting people and animals from the powers of evil spirits and witches, and were often worn around the neck, or hung on the key or door to the cattle stalls or stables. Hagstones were also thought to have the property of preventing milk curdling during a thunderstorm, when evil spirits were most active. This practice continues today in parts of Britain and Europe. In some parts of Europe farmers milked their cows so that the milk passed through a Hagstone. A range of disorders were thought to be cured by Hagstones, placing them under the bed was thought to relieve cramp and rheumatism, and they could prevent stomach disorders caused by Hags sitting on the stomach during the night. I've certainly learnt something here! Thanks for your informative and perceptive comments. lol

• United States
22 May 07
I do a bit of jewelry making too...but I also wear a lot..I'm drawn to turquoise...I have stones from a greener turquoise to sky blue..and love them all...turquoise is known as the spiritual stone..and maybe I'm drawn to it as I am part Native American--I also love tiger's eye (protection)...I sometimes wonder how years and years ago how people gave "meanings" or attributes to gemstones--any clue??

•
10 May 07
I like Gemstones becuase of their colours, textures, patterns and overall beauty. Each individual piece is different since they are all natural. Fluorite is particularly pretty, as it comes in a range of colours. I don't think i could pick just one out, there are so many to choose from! I do love the look of Amethyst in its natural state.

• Australia
11 May 07
Hello there! Gemstones are fascinating aren't they? Each one is so different and will only give off "vibrations" to particular people. I love Fluorite too and also Labradorite. It's a very boring looking stone, but when you move it around in the light it has electric flashes of the most beautiful colour blue inside! Truly fascinating - and to think Mother Earth has provided us with these treasures! Thank you so much for responding. lol

•
7 Mar 07
I have a South African piece of selenite that has such a bubbly, cheerful feel to it, it's really quite amazing. I've known people to start giggling just by holding it! I use hematite a lot as I often need it's grounding energy and it helps the blood flow.

• Australia
8 Mar 07

I love hematite. It's a very empowering stone. I love the cool feel to it and the shine it has. Thank you so much for responding.