kleptomania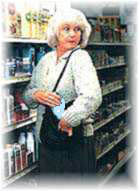 Italy
March 8, 2007 5:00pm CST
Do you think that the kleptomania is an illness???? I cannot, a psychological problem, which strikes since children, in fact the kleptomaniac one, do not steal to get rich but for vice, and not very expensive things. Are there cares??? or medicines??? I would not give medicines, but a good psychologist.
2 responses

• India
8 Mar 07
I feel it is a wrong habit developed in childhood and not corrected by parents. But once you become aware of such tendency you can stop doing it. for stopping this habit, every time you are leaving a place you have to check what is in your hands so that you keep it back and not walk out with it.

• Greece
8 Mar 07
I believe kleptomania is a psychological illness.The more time as I seethe people with kleptomania come from family's with money ,so there is no need to steel.For my opinion if they want stop doing it they need help from doctor also except the support of them family.