Going Postal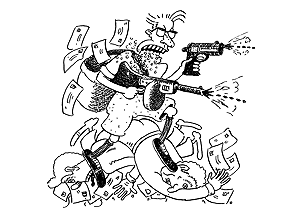 Australia
March 9, 2007 9:42pm CST
I have just learnt about the saying 'going postal' and I find it quite interesting. Apparently excessive stress is sometimes known as going postal. I did some research and apparently it's because of a history of US postal workers turning violent and committing murders on their colleagues. In 1993 the Us Postal Service sponsored a symposium and found that 35 have people have been killed in 11 post office shootings since 1983!In 1986 a letter carrier called Patrick Sherrill killed 14 co-workers before killing himself, in Oklahoma. In 1991 postal clerk Joseph Harris from New Jersey shot and killed his boss, 2 other USPS employees and a 4th person more than a year after being fired. A month later in Michigan, Thomas McIlvane killed 4 USPS postal workers and himself after being fired. In 1995 a former postal worker Christopher Green killed 2 postal employees and 2 customers while robbing a post office in New Jersey. In 2006 Jennifer San Marco entered the mail sorting centre in California where she was previously employed and killed 6 employees and herself. The USPS report found that postal workers were more likely to be verbally abused by their co-workers and were more likely to believe their colleagues held grudges against them, nearly twice as likely to say their colleagues had mental problems, four times more likely to agree that the use of threats or violence was a more effective way of getting things done in the workplace and that many managers and supervisors try to provoke employees to violence. So I think that 'going postal' is quite a relevant saying for 'excessive stress'!
2 responses

• United States
1 Jun 07
For about 5 years I was a highway contract postal carrier. This means I was a self employed contracted worker delievering the mail for the USPS. I ,too, exaimined the "going postal" phenomonia, only from within. What I found is not anything the post office wanted to hear. I told 2 different postmasters how I am sure it could be ended, finished, a stop put to it almost immediately. All without punishing anyone and while improving the efficiency of the USPS. Both the postmasters who I gave this solution to, replied that they would not pass my suggestion on to superiors. How could the post office end "going postal" ? The USPS needs to end their affirmative action program. All persons who went postal and killed people were hired after being given extra points on the aptitude test all potential employees must take. This resulted in persons who could not do very demanding work being pressed beyond their ability to perform. This resulted in undue stress that could have been avoided. BTW: The USPS affirmative action program is in no way limited to race considerations, I'm not picking on blacks. Very few who went postal were black. The current aptitude test is very well designed to screen out people who can not do the work. So, what does the affirmative action program do? It hires them anyway! What did they think would happen?

• Australia
2 Jun 07
That must have been very frustrating for you, having suggestions to make the USPS safer and better but being ignored. I hope you've found happiness in another job.

• United States
2 Jun 07
Frustrating, yes, unexpected, no. I knew there was no way they would ever give up their affirmative action program. I just wanted them to realize that hiring people not qualified to do the work was the problem. Today, the USPS still has an affirmative action program but they have modified it to not hire those people who are not going to be able to perform and thus come under undue stress. You see, contrary to popular opinion, quite a large number of USPS jobs are actually quite hard work that can only be done by a hard working intelligent person.


• Australia
10 Mar 07
Since I'm Australian, I'd never heard of the term before, I don't think we have the saem situation here. I've never heard of Austalia Post being a stressful place to work at, though I could be wrong.