Your walls

United States
October 16, 2006 7:15pm CST
What's on them right now? I have a Monty Python poster and some art prints. Let's see who has the most creative wall. best response goes to the most creative wall...
7 responses

• United States
27 Oct 06
On my bedroom wall i have many posters of bands like Audioslave, Blink182, Green Day, All-American Rejects, Maroon 5. Then I have some posters of soccer players like Davy Beckham, Pele, Ronaldo. I also have some cool chinese signs. Thats about it.

• United States
27 Oct 06
All very good bands. I have a poster of Beckham too but I just haven't had time to put it on my wall.

• United States
1 Nov 06
I now offically have a flava flav clock now too hah

• United States
27 Oct 06
Not much...but in the family room I have a poster size painting my daughter did of two parrots..sorta mirror image project when she was 12 and upstairs we have a sun that she drew and another painting she did of Sailor Moon that was entered in a county art contest for kids with special needs and she won 3rd place...that one hangs in her room. Then there are various little things she has hung up...her "art" area's (she wants to draw Anime when she grows up) there is a notebook size piece of paper on our bathroom that shows a man and woman stick figure...it's an equal opportunity bathroom....lol

• United States
27 Oct 06
I like your decorations! Your daughter sounds like she must be very talented.

• United States
27 Oct 06
I dont have much .. in my living room i have a mirro and a pictire of a trumpet .. in my hall way i have a picture of stewie from family guy, and thats about it.. if i had nails i would have alot more pictures up ..

• United States
1 Nov 06
My wall paper has a picture of clouds. then I have another with water falls.

• United States
1 Nov 06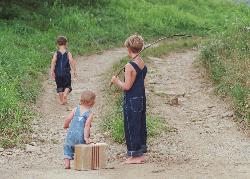 I have portraits of my children I have taken and other photographs that I have taken. I am looking to start selling some of the photographs as art. Not sure where to go to do that but checking it out. Here is an image of my boys that hangs on my wall as an 16x20. My middle son got mad at the other two and walked off which is so tipical of them.

• Netherlands
1 Nov 06
I have absolutly nothing on the walls in here because we just repainted. Boring huh?