Vegetarian recipes

Canada
7 responses

• United States
14 Mar 07
I had this cottage cheese loaf at someone's house about 20 years ago and I loved it. It tasted better than any vegetarian dish [or even meat dishes] that I've ever had in my life! And I have had quite a few vegetarian meals over the years and attended many vegetarian potlucks. The lady gave me the recipe for it but I've found it in several vegetarian cookbooks too. I make this quite often. Cottage Cheese Loaf [Can also be called Special K Roast] 1 large container cottage cheese 1/2 cup [or one stick] margarine or butter 1 large onion, diced 1 cup walnuts chopped very fine [I smash them] 3 eggs 2 tablespoons of vegetarian fake chicken seasoning [this is approximate, you can either add more or less depending on your tastes] 5 cups Special K cereal Spray a large baking casserole dish with Pam or other spray, turn oven to 350 degrees. In a large bowl [easiest if you use a microwavable one], melt the butter in the microwave, add all ingredients EXCEPT the Special K cereal. Mix well. Then add the Special K cereal and mix well. Add to casserole dish, cover with foil, bake for 45 minutes at 350 degrees. After 45 minutes, take off the foil and bake another 10 to 15 minutes. Take out of the oven and let it set for about 15 minutes before you eat it. It just seems to work better that way for some reason!

• Canada
14 Mar 07
Awesome. Thanks again. i really appreciate it. It looks great :)

• India
14 Mar 07
Ingredients: 1 tsp dry mango powder 1 tsp ginger-chopped 1 onion-finely chopped 250 gm potato 250 gm spinach salt to taste tomatoes-sliced to garnish vegetable oil for frying 3 green chillies-finely cut 1 tsp corriander powder 2 tbsp corn flour Method: Wash palak and grind it to paste keep aside. Boil and peel potatoes and mash them. Cut onions, green chillies and add the palak , ginger, green chillies and onions to the mashed potatoes mix well. Add all the spices mentioned above and mix well. Add cornflour to the potato mixture and mix well. Make small shaped tikkis and dust them with a little cornflour heat oil and deep fry. Garnish with chopped tomatoes and serve hot with mint chutney.

•
14 Mar 07
What sort of recipes do you want? There is a huge amount of things I could choose from. I have a lot of different recipes I use and they are all on my website. If you are interested take a look at http://www.recipesforvegans.co.uk

• Canada
14 Mar 07
I just want some personal favorites.

• Philippines
14 Mar 07

Vegan Carrot Soup INGREDIENTS 1 tablespoon vegetable oil 1 large onion, diced 3 cloves garlic, minced 4 large carrots, sliced 5 new potatoes, quartered 2 cups vegetable broth 2 teaspoons grated fresh ginger 1 teaspoon curry powder salt and pepper to taste DIRECTIONS Heat oil in a soup pot over medium heat. Add onion and garlic, and cook stirring often until onion is translucent. Add carrots and potatoes, and cook for just a few minutes to allow the carrots to sweat out some of their juices. Pour the vegetable broth into the pot, and season with ginger, curry powder, salt and pepper. Bring to a boil, then reduce heat to low. Simmer for 15 to 20 minutes, until carrots are tender. Puree soup in small batches using a food processor or blender, or if you have an immersion blender, it can be done in the soup pot. Reheat soup if necessary, and serve. Zucchini Bread INGREDIENTS 2 cups grated zucchini, about 7 small zucchini grated 3/4 cup egg substitute 2 cups white sugar 1 cup vegetable oil 2 teaspoons vanilla extract 3 cups all-purpose flour 1 teaspoon salt 2 tablespoons baking soda 1 tablespoon ground cinnamon 2 teaspoons ground nutmeg 1 teaspoon baking powder DIRECTIONS Preheat oven to 350 degrees F (175 degrees C). Grease 2 - 8x4 inch loaf pans. In a large mixing bowl, combine zucchini, egg substitute, sugar, vegetable oil, and vanilla extract. In a medium size mixing bowl, mix together flour, salt, baking soda, cinnamon, nutmeg, and baking powder. Gradually mix dry ingredients into the zucchini mixture. Pour batter into the prepared loaf pans. Bake for 40 to 60 minutes. Red Lentil Soup INGREDIENTS 1 tablespoon peanut oil 1 small onion, chopped 1 tablespoon minced fresh ginger root 1 clove garlic, chopped 1 pinch fenugreek seeds 1 cup dry red lentils 1 cup butternut squash - peeled, seeded, and cubed 1/3 cup finely chopped fresh cilantro 2 cups water 1/2 (14 ounce) can coconut milk 2 tablespoons tomato paste 1 teaspoon curry powder 1 pinch cayenne pepper 1 pinch ground nutmeg salt and pepper to taste DIRECTIONS Heat the oil in a large pot over medium heat, and cook the onion, ginger, garlic, and fenugreek until onion is tender. Mix the lentils, squash, and cilantro into the pot. Stir in the water, coconut milk, and tomato paste. Season with curry powder, cayenne pepper, nutmeg, salt, and pepper. Bring to a boil, reduce heat to low, and simmer 30 minutes, or until lentils and squash are tender Enjoy!!

• Canada
14 Mar 07
Oh we've got some great ones on here :) thanks a bunch.

• India
14 Mar 07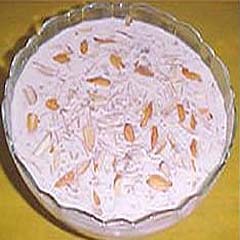 Basic Malai Korma Ingredients 2 cups malai (thick top cream of milk) 2 onions finely chopped 1 tomato finely chopped 10 flakes garlic 1" piece ginger peeled 5 green chillies 1 tbsp. coriander leaves finely chopped 10-12 cashewnuts 1/4 tsp. turmeric powder salt to taste 3 tsp. ghee METHOD:Make a smooth paste of ginger garlic. Break cashewnuts into small bits. Heat ghee, fry cashewbits, drain, keep aside. To same hot ghee, add chopped onions, fry for 2 minutes. Add ground paste, salt, green chillies, turmeric powder. Add tomatoes, cook till oil seperates from gravy. Add cream, stir and cook. Simmer for 2 minutes. Garnish with chopped coriander and fried cashewbits. Serve hot with roti or naan. Making time: 20 minutes Makes: 4 servings Shelflife: Best fresh

• Canada
14 Mar 07
Amazingly I have all that in the kitchen right now. I'll giv'er a try and see how it goes :) Sounds delish though.

• Philippines
13 Apr 07
try to search here http://allrecipes.com/Search/Recipes.aspx?WithTerm=vegetarian

• Brazil
17 Mar 07
well,my personal recipes i always get in sites..but i have one in special that i really like and hope you like too:) Spanish Rice INGREDIENTS 1 tablespoon vegetable oil 1 1/2 cups instant rice 1 onion, chopped 1 red bell pepper, chopped 1/2 green bell pepper, chopped 1 teaspoon prepared mustard 1/2 teaspoon salt 1 1/2 (14.5 ounce) cans whole peeled tomatoes 1 cup tomato juice DIRECTIONS In a large saucepan over medium heat combine oil, rice, onion, red bell pepper and green bell pepper. Saute until onions are translucent. Stir in mustard, salt, tomatoes and tomato juice; simmer for 5 minutes. nham nham!