Who Likes To Crochet?

Turkmenistan
March 15, 2007 9:33pm CST
When I was a child, my mother taught my sisters and I to crochet. Unforunately, I have not been able to move very far beyond what she showed us. However, I love to crochet and hope to learn new stiches some day and maybe even learn to knit. One of the things that I really like about the stitch that my mother demonstrated is that there are no holes in it. I never understood how a blanket with holes could keep you warm.
9 responses

• United States
16 Mar 07
i love to crochet. do you know what the stitch is that your mom taught you? unbelievably those blankets with holes are very warm, as long as your fingers and toes aren't getting tangled in the holes and driving u insane lol. my mom taught me when i was quite little and then i picked up stitches along the way. you never remember them all, just remember the basics and learn how to read a pattern, then you can do any. there are alot of tutorials out there and probably several online. i love making afghans. i learn a new simple stitch and go with it and it makes beautiful afghans.

• Turkmenistan
16 Mar 07
You are right, I do need to learn how to read a pattern. On my last birthday, my aunt gave me everything I needed to knit and I got so frustrated that I used the yarn to crochet. I have several books that teach to crochet, but I will need to purchase an instrution dvd to realy get it. I wish I had learned more in childhood. I don't know the name of the stitch my mom taught me. You do the chain and then you go back down, stick the needle in, loop it around once and pull it threw. A short time after you start you have to do a to loop chain to make the corner and you keep going around til' the blanket is as big as you want it. I call it the single stitch.

• United States
16 Mar 07
yes that is a single crochet and in a patern it's abreviated sc the next stitch you will want to learn is a double crochet. after you learn that one you can make a beautiful blanket all with single and double crochets with no holes. i'll have to take a picture of mine to show ya :) double crochet is where you do the chain as before. wrap the yarn over the hook then put through the stitch on the chain. grab up the yarn and just pull back through the stitch (there are 3 loops on your hook at this time). wrap the yarn around your hook and pull through two loops (now there are 2 loops on the hook) wrap the yarn again and pull through both loops. there is a double crochet. it goes alot quicker than a single crochet and opens a whole world of crocheting to you.

• United States
19 Mar 07
I too love to crochet. I have done a lot of different patterns since learned how to many years ago. I love to make dollies and crochet around flannel to make baby blankets. I have made several baby blankets but prefer to make smaller projects. Have made dolls like strawberry shortcake and others many years ago. It is great to see the outcome of the project.

• United States
26 Mar 07
Oh my, now you have started something. I used to make the dolls like strawberry shortcake but haven't for years. So now that you have reminded me I will have to do some more of those. Oh my, so many projects, so little time.

• United States
4 Apr 07
I'm glad you love to crochet. I've been hearing that less and less people are doing it. Me, I have to keep my hands busy, and crochet is a great way to do it. Sounds like you do what is called single crochet. Other than the chain stitch, it is the simplest stitch. On your note on knitting, I'll give you a "good luck" and words of warning. It is easier to go from knitting to crochet than the other way around. They are very different. I knit occassionally, but it isn't easy for me. Two big differences. 1)With knitting needles, you don't have the hook to pull your loops with. You do it with the tip of the needle. 2)You don't do each stitch by itself (in general). You pull up a lot of stitches and hold them on the needle. Each row you finish the stitch of the last row and start a stitch in this row with the loop you pull up. That's confusing, I know, but I can't think of a better way to say it. In crochet there is a way of crochet that looks similar to knitting. The result is quite a bit thicker than knitting, but it looks the same. It has two names. Tunisan Crochet, or simply Knit-Crochet. It is very simple. If you'd like I'll tell you more about it.

• United States
5 Apr 07
That's about the size of it. I've done a number of afghans, but now I mostly do doilies and tablecloths. I know what you mean about afghans being warm even with the holes. I don't know why they work, but they do. All you need is a sheet under them and they are quite cozy.

• United States
21 Mar 07
My aunt helped me learn how to crochet.I love to crochet I find it very relaxful. I had an car accident two years ago that left me laid up for awhile and if I hadn't had my crochet to do I would have gone crazy. I have even written some of my own patterns for my own enjoyment. I love doing scarves,bookmarks,doilies and doll clothes. I have crocheted some afghans and some stuffed animals too.

• United States
25 Mar 07
I made a whole lot of scarves with fun fur and a Q hook. I think I could crochet those scarves blindfolded.

• United States
19 Apr 07
I tried learning to knit from a book, and from written directions that came with projects, i could NOT get it for the life of me... finally i saw that HGTV and DIY have shows about knitting and i watched them. It's alot easier to knit once you've actually seen someone else do it. I love crocheting, my mom taught me as well. Sadly though she only knew one stitch. Seems the person that taught her only taught her that one, lol. I went to old used book stores and got books on crocheting and learned lots of new stitches from those. They also have lots of fun cute projects in them if you get the right one.

• Turkmenistan
19 Apr 07
Yes, I think that my mom only knew one stitch also. Believe me, I learned the hard way that you can not learn to crochet from a book. I have several of them now and they are collecting dust. There is a Michael's Arts and Crafts store in my city, but I have yet to visit. According to their internet site, they give classes in knitting and crochet.

• United States
17 Mar 07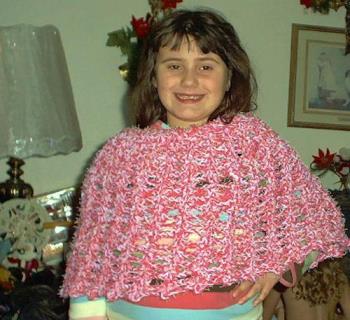 I love to crochet. I have been doing it a long time.My grandmother taught me. There is so much help on the internet,lot of patterns and tutorials. I crocheted my son an afghan,he wanted a big one and it is crocheted with triple strands of yarn. It is very warm.It is surprsising how something with holes can keep you warm.


• Canada
26 Mar 07
I really like crochet and it is not hard to learn as i taught myself how by looking at things that have already been made. There are four basic things you have to know and that is to chain, single double and triple crochet. Al patterns are a combination of those four things so once you know them well you can do anything with it you want.

• Canada
20 Apr 07
My mother in law tried to teach me to crochet a few yrs ago and I got so frustrated with how long it took me to just get a small circle so I chucked it aside and went back to my jewelry, then just recently started doing wire crochet with my jewelry I absolutely love it when I incoperated it with my love of jewelry maling.