Your Photography tip or secret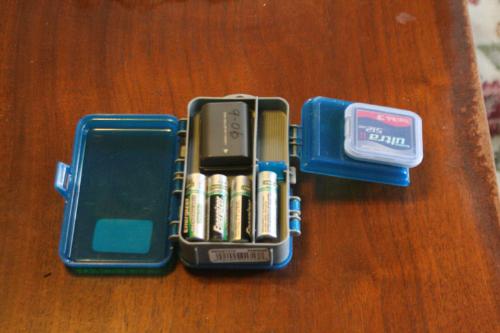 United States
March 16, 2007 7:31am CST
When I first started in Digital Photography I bought a mediacard holder and paid, $19.95, for it and it worked for my Smart Meida Cards. When I moved up to a larger camera and Compact Flash the card holder was no longer large enough. The one I bought broke the hinges and I was using a rubber band to hold it together. One day while taking a short cut through the fishing department in Walmar I saw a small pocket size fishing tackle box. It looked the right size for my AA Batteries for my flash and my extra camera battery. It was $2.99, and returnable if it did not work. It work great - 3 compartments, one large and two smaller and it could hold 16 AA Bateries, or 4 camera batteries, or 8 CF Cards in the individual plastic cases or any combination. It worked great. But a Major problem, my son took it when he was deployed in Iraq to keep the dust off his media cards and batteries, bought another one, my daughter took that one to keep her CD batteries together in the car. I have purchased 5 of them and still have 2. They work great and I have yet to spend the, $19.95, I spent for the special card case. I would like to know what you secret find or tip is. I see photographers with equiptment that you can not get in any photo shop but a Walmart or Home Depot will have. Lets share your great stuff.
4 responses

• Philippines
17 Mar 07
For every photographer a dry box is a must. Unfortunately, dryboxes are expensive. I make use of lock & lock air tight container like this one http://www.amazon.com/Lock-Airtight-Food-Container-Clear/dp/B0000YZJNO/ref=pd_sim_k-Clear/dp/B0000YZJNO/ref=pd_sim_k and put 1 cm layer of 100% silica crystals from a pet shop at the bottom of the container. I placed my lenses and cameras inside the box for storage to avoid from getting molds or fungus when not using them. It would also be nice to put a hygrometer inside the box to give you an idea about the humidity so you will know when to replace a fresh set of silica crystals.

• United States
16 Mar 07
I bought an infra-red lens on ebay for less than $15. When you use the infrared lens you can take lovely outdoor photos. It also is good for cemetary photos. Have you used one?

• United States
16 Mar 07
We use a tackle box for our first aid kit, this way we have room for everything we need and populating the case your way is much cheaper and better then those premade first aid kits.

• United States
30 Jun 07
That is a great tip I will have to get me one and I don't think I will tell anyone so that way I can keep it all to my self LOL! Thanks!