Think you Like Sylvia Browne, Check This Chick Out!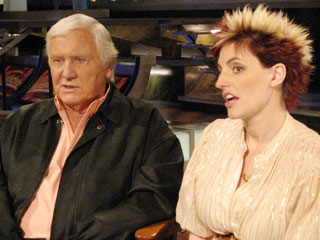 United States
March 16, 2007 7:25pm CST
Her Name is Lisa Williams. I've caught her show on the Lifetime channel a few times and she is amazing!!! Unlike Sylvia and some of the other tv psychics...she is thorough in her explanations and she ASKS everyone she reads for NOT to say anything, as she wants to be clear on her readings and then she will ask you if you understand what she's saying throughout the reading! She hits dead on usually. My husband and I argued many times over about my beliefs in the things Sylvia Browne said in her books, but it only took 1 time of my husband, (the super skeptic) watching the Lisa Williams program to let his jaw hit the floor. My husband does NOT believe in psychics, but Lisa Williams seriously makes him question that opinion. If you ever get a chance to check out her show...you should at least once..I'm not sure when it's on again, as the season ended, but you can see more info about her here: http://www.lifetimetv.com/shows/lisawilliams/index.php And I just read that she is coming back for a second season, they just didn't say when. Oh, and she's a clairvoyant, not a psychic. Sylvia has always claimed to be both.
4 responses

• United States
7 May 07
I've never heard of her but she sounds interesting. I'll have to watch her show when it comes back on.

• United States
27 Apr 07
I have never heard of Lisa Williams. I will read that website..thanks. I love Sylvia Browne.

• United States
24 Mar 07
I've never heard of her but will check the site out. I know I love Sylvia and own most of her books. Does Lisa Willliams have any books as well that you know of? Sylvia isn't very explanatory, so I'd love to see what Lisa Williams does!

• Dallas, Pennsylvania
19 Mar 07
I have senn her on lifetime too. I just ran onto the show while flipping channels but I like her. I try to watch when I can.