milk chcolate with fruits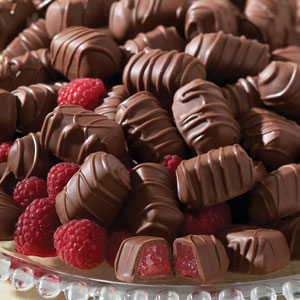 Philippines
March 21, 2007 4:18am CST
Do you love to eat milk chocalate with fruits inside?
9 responses



• United States
27 Mar 07
not much of chocolates with fruits for me , but if chocolates with nuts maybe mix nuts of just peanuts ; walnuts ; almonds ; cashew or any type of nuts alone makes me not resist for more serving.

• Canada
26 Mar 07
Well ... I LOVE chocolate, and I LOVE fruit so I think it would be great! I have had chocolate covered raisins before, and those chocolates you get around christmas with the cherries in the middle. That is as far as fruit & chocolate have gone for me. I'd really like to try it though.

• Philippines
22 Mar 07
Nope, i dont like Milk chocolate and pls dont put fruits in it... I dont like it neither... All i love is the dark chocolates... Have a nice day ahead!


• Philippines
21 Mar 07
it depends on what sort of fruits. if it's with dried fruits like that of Cadbury's Fruit & Nut, i'd love that. but if you are talking about fresh fruit, eeewww! sounds disgusting. or am i just too imaginative right now? Lol!

• Indonesia
21 Mar 07
is this an offer? yes please :D. lol i love chocolate and fruits.

• Hong Kong
21 Mar 07
Mile chocolate with raisin is good. The combination of that with orange is excellent. But not with lemon.