CJ Won Another Medal..!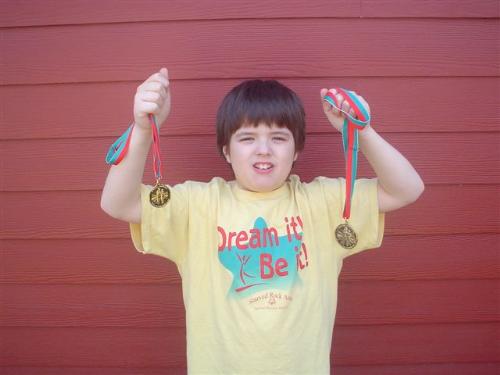 United States
March 21, 2007 7:46pm CST
Some mylotters may have noticed that I haven't been around for a week or so; things have been going on here which were out of my control. Needless to say I have a lot of friend's discussions that I need to go through; may take awhile but rest assured they will be viewed, etc. As some of you already know my son, CJ is in the Special Olympics. His first competition was last year, bowling, which he didn't fare too well in but he still had a great deal of fun and that's all that really matters, is it not?Then, on January 20, 2007 he competed in the regional - individual basketball skills competition here in Illinois. He won a Gold Medal; we were so proud of him and he was so happy. The win qualified him to move on with other Gold Medalists to compete in State. We went to Illinois State University on Saturday, March 17, 2007 (St. Patrick's Day) and he participated once again; we had practiced a few times before going. The first time he won the gold he couldn't really dribble that well or hit ball off wall and let it bounce once before catching it but he made a lot of free throws. At State he dribbled across the court twice without missing a beat and hit ball off wall, bouncing it once and then catching it, every time. He even made 5 out of 8 free throws..!We were all very excited for him and I just wanted to let all my friends here at mylot know so that they could congratulate him as well for being a two-time Gold Medalist..! He's going to be in our local paper next week and I've added his picture here for you all to see. Next competition is in May, 'track and field'; I'll be preparing him for that soon..!For those of you not knowing how, hold 'Shift' key down at same time, 'right click' on the photo to have it open in another page... I'm glad to be back. Have a great rest of the week all.
8 responses

• Etowah, Tennessee
31 Mar 07
GO CJ!! I am so proud for him. I have volunteered with the Special Olympics and the kids are so thrilled when they win1 It really lights up their little faces. Tell him we are all very proud of him and good luck in the track and field.

• United States
31 Mar 07
Big Huggers to CJ! Congratulations. I have many friends who volunteer for Special Olympics. The kids are overjoyed to be able to participate in the events. Huggers to you to!

• Ireland
22 Mar 07
I would also like to add my congratulations to those above. You must be very proud of your son being a two-time Gold Medalist and you are both to be congratulated for all the hard work. I wish all the best for the 'track and field' event in May and I hope he does equally well. Thanks for sharing the lovely news with us.

• United States
22 Mar 07
I'm so happy to hear from you, your not going to believe this but was going to email you this morning to find out what happened over the weekend. I'm so proud of and happy for CJ. This was not an easy accomplishment and know he worked hard to win his metal. I also know "mom" helped a lot also. I'm proud to have a friend that is such a wonderful example of how a mother should be and love her child. Three cheers for CJ and a pat on the back for you.

• United States
22 Mar 07
Glad to have you back. And many congratulations to CJ. That is great. You must be so proud. I'll be rooting for him May. Let me know before you go. Welcome back to the pack and happy posting.

• Canada
1 Apr 07
I have been absent a bit too - lot going on - so just read this. Congratulations to CJ and to you, mom! You guys worked hard toegether for this, and it's wonderful. He looks so proud in his picture. Way to go guys!

• United States
28 Apr 07
Thank you so much. CJ was very proud and happy. We're working on Track-n-Field right now. First Sat. in May. Keep good thoughts out for us. He's doing very well right now; can throw a tennis ball over his head straight in front of him and he runs the 100 yard in 42 seconds. Will be trying to get that lower before the big day. LOL.


• United States
29 Apr 07
WTG CJ and fans! LOL I think the Special Olympics are so wonderful. I volunteered for years as a teenager, locally. One time volunteering and you'll be hooked. It's the most awesome thing for everyone to experience.. from the families of the athletes to the athletes themselves.