Why are cats facinated with water, yet fear it at the same time?

United States
March 22, 2007 10:59pm CST
My cats come to you when they hear water running, but please don't try and get them wet! Why?
8 responses

• United States
23 Mar 07
Isn't it funny? My cats will sit on the edge of the tub while I have a bath and will sit outside the shower door and try to catch the water drops. Of course, our youngest kitty loves a bath once she is wet. The initial wetting does upset her, then she settles down and enjoys the bath. The older cat tolerates baths, but I think enjoy isn't the right word with her!!


• United States
23 Mar 07
My cat loves to get her paws wet and will drink from the faucet if you leave it running slowly. She just doesn't seem to like her water dish very much. So, after we're done in the bathroom every morning, I just run her a little water in the bathtub. She plays in it all day...just as long as nothing gets wet except her paws.

• United States
23 Mar 07
Funny you ask that question. My cat HATES to take a bath but he loves to drink from the faucet when the water is running slowly. It is really a site... he checks it (quickly) with his paw to make sure its the right temperature and then he turns his head in the most awkward position, takes his drink and then he is done. A lot better than a dog drinking from a toilet!

•
23 Mar 07
I used to have a cat that loved to taunt my tropical fish, these weren't your ordinary fish, they were Oscars & a foot in size & my cat would put his paw in the tank & flick the water. He often ended up getting a nip from the fish, hilarious to watch though.

• United States
23 Mar 07
i think the sudden wetness on their fur freaks them out. i have 2 who actually do like baths,though. they are 16 and it think it warms the old bones LOL

• United States
24 Mar 07
It depends on the cat. One of mine love to get into the shower or bath with me. The other stays far from it. Both drink out of running water from the faucet only.

• United States
24 Mar 07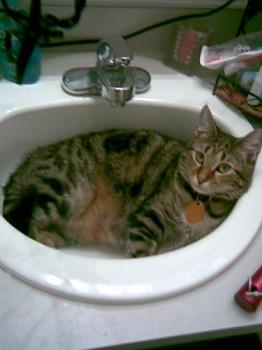 My cat LOVES water. I started her with baths when she was a little bitty thing - she hated it then. Now she loves to take a bath, she brings me wash cloths so I'll wipe her down all the time too.:) Water can be scary - I think it startles them. They are used to cleaning themselves. I know many cats who take their paws and run them through water to clean their fur(with the paw). I think its probably the scare factor that makes cats freak out.