Miso Soup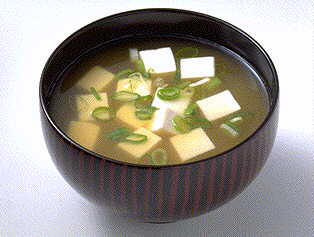 United States
March 25, 2007 3:53pm CST
I love miso soup but can't seem to find any places around here that make it .. and if they do, it's not all that great. When I lived on the west coast, Henry's Market used to sell packets of the white miso soup (not the red) and it was awesome. Anyone know of any brands or companies that make s good white miso soup?
7 responses


• United States
25 Mar 07
I know what you mean. Some of those powdered miso soups (like the ones they have at Trader Joe's) can be pretty gross. They can just be too salty or just too bland or whatever. The brand of miso that I use is Cold Mountain miso. This brand is actually an American brand, but I like it just fine. They have both red and white miso and it's usually a lot cheaper than the imported stuff. Only problem is that it needs to be refridgerated and that can be a problem if you want the item shipped. Another good American brand is Miso Master. I've never tried it, but my Japanese cookbook highly reccomends it.

• United States
26 Mar 07
Yeah, the funny thing about miso is that there are a milion different ways to make it. Some people like just the broth, others like seaweed and other veggies added in. I myself like a nice strong red miso broth with chopped scallions (green onion) and a few bits of silken tofu. The nice thing about the miso paste is that it can be added to a bunch of other things like salad dressings. Yum!

• United States
25 Mar 07
They don't have it in a Wegman's by you? No local asian markets or health food stores nearby? How about this place: http://www.asianfoodgrocer.com/index.asp?PageAction=VIEWCATS&Category=1099&gclid=CMuPyJzokIsCFRZsUAodYSfgSQ Hope you find what you are looking for!

• United States
25 Mar 07
There are some Asian markets near me but they don't sell individual packets of stuff and I don't feel like buying a box of 50 and getting stuck with them if they suck. Wow .. I can't believe someone replied to my topic so faast .. thanks for making my Sunday afternoon!

• Canada
26 Mar 07
I only found that in Japanese or Korean restaurant I don't know other places. I guess depending on where you live. I found many of them here.

• Australia
26 Mar 07
Sorry, I've never heard of miso soup. What is it?

• Israel
25 Jan 09
It's made from fermented soybean paste. It's really tasty.

• United States
18 Dec 07
You know, I don't think that I have ever tried Miso soup before. Looking it up real quickly, it does sound pretty interesting, and now you have me intrigued. :)

• Malaysia
5 Dec 07
I don't know where to find packets miso soup.. but I have to say, i love miso soup too!!!