13 things inside my bag....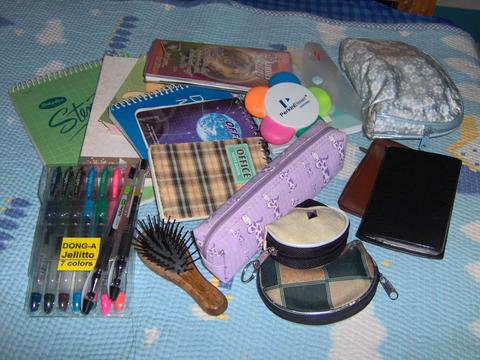 Cebu City, Philippines
March 25, 2007 5:31pm CST
1…. Notebooks... hmmm, I got 5 notebooks inside my bag, quiet time notebook, crochet notebook, load notebook, memory verse notebook and blog notebook. 2-. Hair brush, small brush its already old but theres nothing like it. 3. Dong A colorful pens, I write all the time and Im really fond of colorful ones and Dong a pens are special to me, they are my favorite. 4. Pencil case (the lavender one)... its not really all pencil but theres a tooth brush inside and a small tooth paste.... 5. Two coin purses... I have for my own consumption and the big one for my e load/ max auto load business...hehehehe 6. Black card holder... here I place all my cards, atm cards, and cards, I put them all together so they dont get lost. 7. Highlighter (the colorful shaped like a flower) I like it to high light something to remind me. 8. Planner (the redish one) it keeps me organized so I wont forget anything, and to keep track of things to do and things done... 9. Wallet (the brown one) hmmmm, money is here... 10. Make-up kit (blue one) inside it: lip shiner, concealer, nail cutter, lipstick, hair pins, powder, dental floss and my tommy girl perfume. 11. Cellphone... not included int he picture, I forgot to include it... 12. Handkerchief... not inlcuded also in the picture... 13. and my menthol cone; its always there, I need it in case of emergency when I have head ache, its always been my head ache partner.
1 response

• Philippines
26 Mar 07
it seems that you are very organized person..anywayz here's mine: 1.rosary bids and rosary booklet - i used to say rosary while i am in a jeepney. 2. wallet - of course where my money is 3. shades - protection from the sun 4. lip shinner - thats the only make up i put 5. toothbrush and toothpaste- wherever i go, i always keep a toothbrush on my bag 6. cellphone 7. planner 8. handkie 9. keys- for the house and office 10. pictures - of my hubby and son, and some of my friends 11. ballpen and pencils 12. candies- 13.booklet for prayers for busy people 12.

• Cebu City, Philippines
26 Mar 07
Wow thank you chiqui! I hope others will join in and list everything here.