who all love pencil high heels 4-5 inch without platforms.......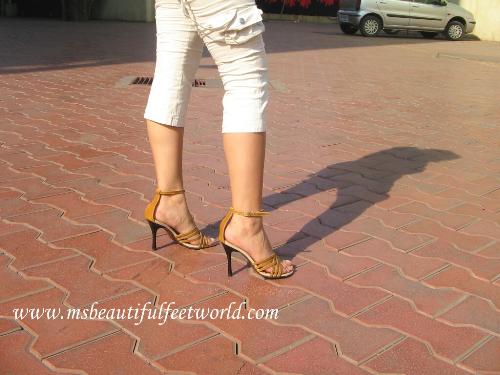 India
March 28, 2007 10:35am CST
as i just love them like anything and the foto that i have attached here is mine.i feel that a lady looks very very sexy in a pencil high heel without platforms or if platform is there then too, it should be very minimal, not at all noticable because platforms spoil the sexyness of the thing. i would like to tell you that i have participated in a Global Beauty Event, Ms. Beautiful Feet World, httt://www.msbeautifulfeetworld.com all you girls who take pride in caring and nurturing your beautiful feet should definately participate as you gain in many many ways all your life ...........................and all you friends out there can enjoy Ms. Beautiful Feet World and can be a part of it in various ways.
6 responses

• United States
28 May 07
Beautiful legs you have there aweins. I agree that heels make legs stand out more and look much better. But I am not used to heels that much. I prefer sneakers as I wear a lot of jeans lol My husband would like me to wear heels and dresses but I am just not that tyoe of person! Thanks for the link I will visit the site and enjoy the beautiful legs!

• United States
3 Apr 07
I had no idea they had a beauty pageant for that. Kind of reminds me of a "certain" type of site but for feet, lol. Don't mean that in a bad way either:) I think wearing those kind of high heels are very sexy and wish I could wear them sometimes. I'm a stay at home mom of 3 so I don't really get all dressed up to be able to wear those, would look kind of silly if I dressed up like that all the time just to take my kids up from school, just to come home. I've thought about buying a couple pairs though just to surprise my hubby one day and go out somewhere nice to be able to wear them. I know he'd really like them. He always tells me he likes the way I take care of my feet and always keep them soft and my toenails painted. So I just might have to try them out, thanks for reminding me:)

• India
3 Apr 07
Hi friend.. :) many thanks for your response.. and am happy to hear that you are gonna treat yourself to a nice pair of sexy 4inch pencil heels... :) I am sure your Husband's gonna love it just the same as my hubby is so crazy about them.. :) LOL... :) And also since u take care of your feet so well i invite you to be part of Ms. BEautiful FEet world.. its not a pageant but a global beauty event... and offers life time earning opportunities.. like i do.. (and best of all its free to participate :)) I wish you all the very best.

• Netherlands
29 Mar 07
Fist of all I want to congratulate you on winning the Ms. Beautiful Feet World contest. You HAVE beautiful feet, thats for sure. I love to wear pencil high heels myself too. But I are not used to wear them any longer. During pregnancy I walked on as lows as possible. And it looks like my feet got wider a bit, so pencil high heels often makes my feet get sores on it or blisterings. But I love to wear it anyway, it looks so pritty! What I do when I go to something I want to wear the high heels, is go on my flat shoes and pop into the high heels at the front door before I ring the bell I am here. In that way I can still wear them.

• India
3 Apr 07
Hi Friend :) many thanks for your response and your compliments.. , by the way... Ms. BEautiufl Feet world is not a pageant but a global beauty event.. it is very unique and a very good opportunity to benefit and earn for life.. do visit it at http://www.msbeautifulfeetworld.com .. have a nice time.. :)


• India
28 Mar 07
many thanx my friend, its very nice to know that u also like them. i agree that it can be painful for wearing them for long hours but some how i m very comfortable in them even for all day long :-) also visit the website http://www.msbeautifulfeetworld.com where it mentions about the correct ways of wearing high heels as it is very important to balance glamorous looks in a healthy manner. you have a very nice day my friend.

•
3 Apr 07
Always high heels for me, partly because I'm only 5' tall but also because I walk better in them. Can't walk any distance in flat shoes because I have a very high instep (probably caused by years of not wearing sensible shoes!) and my feet start hurting. However, it's unlikely I would ever win a Ms.Beautiful Feet title - years of wearing high heels takes it's toll on your feet. Mine, I have to admit, are not my best feature!

• United States
3 Apr 07
I love spiked high heels. Very sexy for a women's leg showing it off. But, painful if worn too long.