Do your male suggies have the bald spot on their heads, too?!

United States
March 30, 2007 12:51am CST
As I said in my post of my suggies, my male has a bald spot. He is just over four years old, we got them in October '06. I know quite a bit about sugar gliders, but have not picked up much on the baldness. I have seen other male gliders with the patch, just not sure if I should be concerned. Any insight on the subject?
4 responses

• United States
22 Oct 07
As everyone has stated it is nothing to worry about. All males have this. All three of my males have it. I don't think I have ever seen a male that didn't have one. So there is nothing to worry about!

• United States
30 Mar 07
This is nothing to worry about, as all males go bald at some point... including sugar gliders :P but seriously, it happens. However if your looking for a pet less prone to baldness, I would recommend a female glider. They never go bald and are just as sweet. Hope this eases your mind a bit.

• United States
31 Jul 08
Nope, my boy Heber does not... But he DID before I got him neutered! It is completely normal. Some seem a little "less" bald but it is just a lower testosterone thing. If female loses hair or a male seems to lose it around his eyes or other areas than his head or chest, though, THAT is reason to check into stress, diet, etc. But normal bald spot? NO worries! Now, Heebs has most of HIS spot grown in all nice and fluffy and he smells sweeter, but he's had his pockets picked, after all.

• United States
23 Jun 08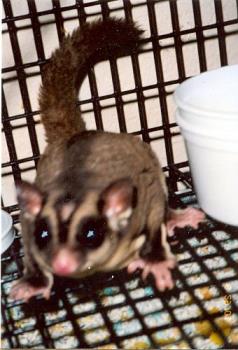 Out of the 4 sugar gliders we've had, only one of them was male, but yes, he had a few bald spots. One spot on his head as you can see from the photo I'm attaching, and one on his chest. According to the books we've read and the vet we checked with, this is pretty commom for the males. This is where their scent glands are located. If you have a female, you'll notice he rubs her with the top of his head. They can be so fun to watch at times. Without regular bathing though, they can also get pretty aromatic, lol.