Is wearing 'Saari' obsolete todays??


India
March 31, 2007 11:03pm CST
In India and even those countries where Saari used ti wear frequently is becoming out of fashion these days.Women of todays think that they Saari is obstacle in the way of development.Do you think that it does not look glamouros when somebody wears saari?Is it really out of fashion?
5 responses

• India
1 Apr 07
It's so sad that India's next generation feels uncomfortable in Saari. It is a really sad thing considering that nothing makes a better fashion statement than Saree. It can be used to look sexy without looking vulgar like most of western dresses these days. Also it being loose fitting also gives enough room for the body and is not a body hugging costume. Cheers! Ram

• India
2 Apr 07
I agree with your point ram,but I think there is still hope.since good things can never be out of tradition,it may vanish for a short period of time but not forever.

• India
1 Apr 07
I support your thoughts Pranesh but on other hand we find girls wearing saari looking glamrous as well as attention-grabbing. On occasions like parties and marriages girls wearing the ethnic culture look much prettier than girls in western dresses. Its indian culture and cannot be made obsolete. Saari is really not out of fashion. As we all know history repeats itself there will be a day when era of saari wil come back.

• India
1 Apr 07
well that sounds optimistic enough.I too am optimistic abut that.Since beauty should not go away like this and Saari is the most beautiful attire on the earth.

• India
1 Apr 07
wear some thing that is comfortable for your activity. a person who is traveling or working wears somethings thats good for their day to day function. Sari is not that important. It was tradition when women never went out of the house....and that was tradition.Not today.

• India
1 Apr 07
It better not but the sad reality is it is. The saari is becoming obselete nowadays. And the one reason is I believe the time it takes to dress up.. and the difficulties in handling of course. But all said and done I dont think there is one dress in the world that looks any better than a saari on a woman any day. There is a beauty that lies in any woman and there is nothing better than a saree to express it.

• India
1 Apr 07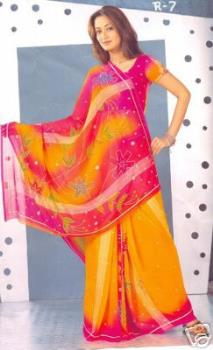 Traditional habituals never go out of fashion. In fact Fashion circles around the time periods only. Once the narrow legged pants came alive again. It all depends on the human tendency only. Like so, Sarees also never go out of fashion.