dogs.

India
6 responses

• Philippines
2 Apr 07
At the moment, we have 7 dogs.. 1 pure-breed white Japanese Spitz, Fifi.. then her daughter, Ashley (half-breed), then her son, Galicio (half-breed), and then Fifi has 3 new puppies cos she just gave birth a couple of weeks ago.. then Ashley's daughter, Whitney who is only 3 months old..

• India
3 Apr 07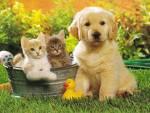 Actully I told you that I have a dog and his name Tomy in your last discussion when you have started.

• United States
2 Apr 07
None in my house, 3 big boys outside. Pepper is a black Lab and Mickey is an Australian Shepherd. Then there is Charlie the Sheltie. Charlie used to be in the house when we were in the house. Currently in a trailer, 2 bedrooms for 4 people and no room for us let alone dogs.

• Canada
2 Apr 07
I just have one... my dog Molly... she a little black mutt with a bit of white in her fur. She's sleeping on the stairs right now lol