My dogs bark on walks. I wonder how I can stop this.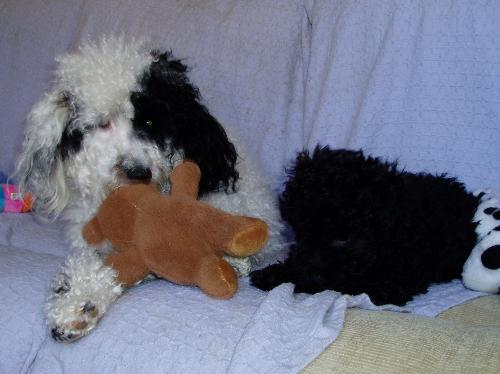 United Kingdom
April 4, 2007 12:16pm CST
I have got two miniature poodles. If are on their leads they tend to bark when they see another dog. If they are off their leads they don't bark at all. I think this is quite strange. I have to keep them on their leads along a footpath near my house. This is because my dog Secret can run up to people and jump up at them. He only wants to play. He is a soft and friendly dog. When we go to the beach both my dogs can safely come off their leads. They have games with sticks and have so much fun. They don't start barking at any other dogs. They really scared a tiny puppy with all the barking they did when he went along the footpath yesterday. I felt bad about this. Does anyone have ideas about how I could make walks on the lead as nice as walks off the lead please?
1 response

• Australia
4 Apr 07
While they are on the lead, they feel restricted and barking is their protectiveness of you. You need to take treats with you, and if you the situation arising grt his attention with the treat, this could take some time, but when they dont bark give them the treat, if they go to bark or bark, a deep NO should get their attention. Just be persistant they will get better.