For Harry Potter Fans Only: Do you wish their really was a Hogwarts?

United States
April 5, 2007 2:14am CST
This might be a silly thing to post and ask, but this is for those of you who love Harry Potter. Quite simply, do you wish there really was a Hogwarts ? JK Rowling has created such a wonderful world that I sometimes wish there really was a school of magic that separated those of a magical nature with those who are just plain "muggles" WARNING: This is just for Harry Potter fans....if you are opposed to HP and believe JK Rowling's books are promoting witchcraft--PLEASE DO NOT REPLY-
11 responses

• Philippines
5 Apr 07
dont worry i'm a harry potter fan... i always wish that there is really hogwarts.. it's so fascinating..if there were hogwarts, i will enroll and study witchcraft... but like Harry potter i will never show to the "muggles" that i am a wizard... ;)

• United States
5 Apr 07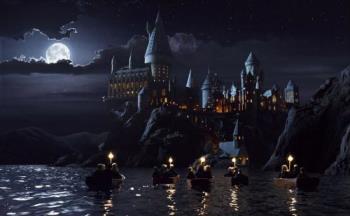 OH MY GOD YES!! I would love to be a witch and go to Hogwarts! If there was a Hogwarts and I was a muggle. I don't know what I would do! To think there was that wonderful world and I couldn't be apart of it. I think Hogwarts would be absolutely wonderful. I never thought I would want to go to a private boarding school before I watched and read the Harry Potter movies. Then I was like - Where do I sign up?!!

• United States
5 Apr 07
I want to sign up too!!!--LOL I do in actuality follow a pagan path myself--I have a feeling that since my great-grandmother was of Celtic roots, that she may have been pagan-wiccan herself--she was a walking encyclopedia of knowledge of herb-lore and natural healings and cures...my grandmother and mother on the other hand were true "muggles"--LOL--never took an interest in anything my great-grandmother did or didn't do...her healing skills seem to have passed on to me...but where she was skilled in healing people I seem to be a natrual with pets/animals. But oh, yes, I would love it if there were a real true Hogwarts--and I really wish I did have some of the skills that one could learn there--like saying a spell and the house could self clean itself--like that scene in the movie where Harry goes to the Weasleys --he walks into their home and the dishes are cleaning themselves, the knitting is being done...LOL-would love that

• United States
6 Apr 07
Oh I would so have to know that spell! I HATE cleaning! It would be a wonderful world to live in. That's probably why I love the books and movies so much :) I tend to fantasize :)

• United States
6 Apr 07
The wingardiem liviosa (oops spelling) would be great--making things levitate--think how that would be helpful in moving furniture--Hehe


• United States
7 Apr 07
I think a real hogwarts would be amazing. I'd certainly prefer to be at a magical castle most of the time instead of at college and home with really stupid people that irk me. I think, regardless of all the crazy stuff that happens, it would be fantastic.

• Pakistan
6 Apr 07
Well JK Rowling was the new heroine of the 21st century. she is just great. a woman who has such a store of imagination can create almost anything she wishes. i mean now that the harry potter series are ending i really wish there was a similar place like hogwarts so that i would nt at least feel that the magical world is going to end with the end of Jk series

• United States
6 Apr 07
Yes, a heroine of the 21st century--she inspired kids to read again--including us older "kids"


• United States
6 Apr 07
Well I don't think you'd want to go to the third floor and meet Fluffy! LOL

• United States
8 Apr 07
This isnt silly at all to me. I think it would be awesome if there was really a hogwarts, and really magic in the world...i wanna be a witch! lol. I think it would be fun to live 'in' the Harry Potter books.

• United States
8 Apr 07
to be honest i do wish hogwarts was a real place id never leave


• United States
6 Apr 07
I would love it if such a school existed. Of course I'd love to be able to go to it as well :) I think it would be an incredible experience not to mention fun to learn all the magic they teach there. Of course at my age I'd be pretty old to go there now but still it would have been fun to do so as a student.

• United States
6 Apr 07
Absolutely. I wish I could escape to this wonderful castle in England, where I'd be able to do magic, and learn all kinds of secrets, for 9 months out of the year. When I first started reading Harry Potter I used to think of what I would do if I ever got a Hogwarts letter. Of course, at that time, I was a little too old to be receiving a hogwarts letter, sadly.

• Philippines
6 Apr 07
if there is a Hogwarts school out there i would definitely love to go there. and if there is one, i would hope that the invitation is the same like in the books, you are like preselected so that muggles dont meddle in th wizard world. it would be cool to be in a place where magic exists.