Egypt - Luxor Hatshepsut Temple Thebes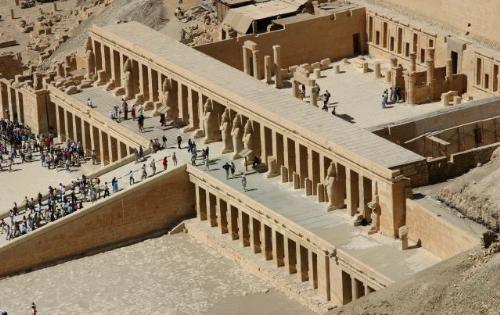 Italy
April 6, 2007 1:46pm CST
Orignally named Thebes, modern day Luxor is where new meets old. Almost all the major tourist sites of Egypt are located here, except the pyramids outside Cairo. The land is lush and green along the Nile, but quickly turns to desert as you move away from the river. hope you like , please if you have additional informations about this topic you are welcome , Good Luck.
4 responses



• India
1 May 07
The name Luxor represents both the present day metropolis, that was ancient, Thebes, and the temple on the eastern bank which adjoins the town."luxor" derives from the Arabic word meaning "fortifications".Known in ancient times as the private sanctuary of the south the temple proper is located south of Karnak.The present temple is built on a rise that has never been excavated and which may conceal the original foundation. The mortuary temple of HAtshepsut nestles at the foot of the cliffs in a natural "bay" on the west bank of Luxor.This area has long been sacred to the godess Hathor and was the site of an earlier mortuary temple/tomb. Hatshepsut, was a female pharaoh who had herself represented pictorially as a male.she served as a co-regent with her nephew.Hatshepsut temple was well suited to escape rock slides.

• United States
23 May 07
I read a series of books about a female archeologist around 1900. The books are by Elizabeth Peters and the name of the heroine ijn the books is Amelia Peabody. They are mysteries. She and her husband always did in Egypt. If you like mysteries and you like Egypt, check out these books. The first of the series is "Crocodile on the Sandbank."