Snack Your Way To A Healthy Heart

Australia
April 7, 2007 12:03pm CST
Eating healthy to strengthen your heart is a great idea. But do you know what is considered healthy? You may be surprised to find out that one of your favorite snack foods may actually lower your risk of heart disease. Consume nuts to reduce your risk of heart disease and improve your overall health. Researchers already know that nuts are a great source of protein. They're also loaded with potentially protective substances called phytochemicals. For example, every type of nut contains flavonoids, a phytochemical. These fight the oxidation that makes LDL cholesterol bad. Recent studies further suggest that nuts may reduce the risk of coronary heart disease. In a recent study, women who ate nuts were one-third less likely to develop coronary disease
11 responses

• United States
8 Apr 07
Kathy, Does this include peanuts..which are not really nuts? Or just true nuts like almonds, walnuts, cashews, etc? Thanks for the heads up on the health issue!

• United States
8 Apr 07
Thank you so much for posting this. It's really helpful and informative.

•
8 Apr 07
They also make you feel satisfied longer so you are less likely to snack more if you eat nuts, I like seeds too I buy bags of pumpkin seeds to snack on.

• India
8 Apr 07
If you want to have a healthy heart, you have to learn how to eat a healthy heart diet. All of the food you eat effects the health of your heart. Learn which foods are heart smart and try to include them as a regular part of your diet. Consult your doctor for an eating plan that best suits your dietary needs. If you are of average health, you can probably follow the Food Pyramid eating plan.No matter which eating plan you follow, the following guidelines are recommended: * Total fat intake should be less than 30 percent of total calories daily. * Saturated fatty acid intake should be less than 10 percent of total calories daily. * Polyunsaturated fatty acid intake should be no more that 10 percent of total calories daily. * Monounsaturated fatty acids make up the rest of total fat intake, about 10 to 15 percent of total calories daily. * Cholesterol intake should be no more than 300 milligrams per day. * Sodium intake should be no more than 3000 milligrams per day. * Beware of chemicals in your food like caffeine, MSG, and other food additives. Don't forget that you can enjoy the taste of eating right. Healthy heart foods can be delicious!

• Singapore
8 Apr 07
Hi Kathy, this certainly is good news for those crazy about nuts. I do like certain kinds of nuts and I try to eat a handful most days because of it's nutritional benefits. However, it does also lead to weight gain if we eat too much per day. I guess the word is moderation. Thank you for sharing the nutritional and health benefits of nuts. I hope more people will learn about this and not feel guilty about snacking on them.:-)

•
8 Apr 07
I love nuts , I especially love the small packets of dried fruit and nuts , when I go grocery shopping I usually buy 2 one for Ross and 1 for me , If I bought a bigger pack I would eat them all lol , Thank you again for the brilliant information my friend xx

• Australia
8 Apr 07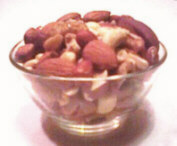 Yeah,thank you for sharing it with other members..In fact, nut eating greatly lowers the risk of heart disease.The beneficial effect of nut consumption was found for men, women, vegetarians, meat-eaters, fatter people, thinner people, the old, the young, those who did much exercise and those who did little exercise. In addition to the cardiac benefits of consuming nuts, the risks of having a stroke, of developing type2 diabetes, of developing dementia11, of advanced macular degeneration and of gallstones have all been found to be lowered by eating nuts. Calculations suggest that daily nut eaters gain an extra five to six years of life free of coronary disease and that regular nut eating appears to increase longevity by about 2 years. The more often nuts are eaten the better as the benefits appear to increase as the frequency of nut consumption increases. The risk of fatal coronary disease and the risk of developing type 2 diabetes both appear to decrease steadily as nut consumption increases from less than once a week to once or more per day. Also,nuts contain low levels of saturated fats and high levels of unsaturated fats. Consequently, as would be expected, studies have clearly shown that nut consumption lowers blood cholesterol levels. No doubt the lower cholesterol lowers the risk of heart disease.

• Gold Coast, Australia
8 Apr 07
I love nuts, and I know that they are good for us (they are high in protien too), but what about the carbohydrate content? They are quite high in carbs, so you would still have to be careful on the quantity consumed. I guess we just need to be moderate in all things.

• United States
7 Apr 07
I am haveing a feeling lately tht my heart is bad but I do not have insurance to get it checked out, so thanx for telling me nuts are good, I am gonna start to eat them more often.... Is there like a limit, or a certain kind that is better for you heart?

• United States
7 Apr 07
i love nuts my problem is stopping at just a few...macadamias and cashews are my favorites

• Netherlands
7 Apr 07
Since I'm a vegetarian I'm aware of the benefits of nuts nutricion wise but that they contained all those protective substances is new for me. Thanks for the info.