What is the most important thing life has taught you?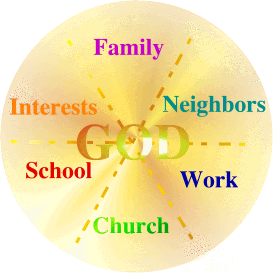 Philippines
April 10, 2007 7:05am CST
I encountered a lot of problems all through my life. A lot of ups and downs with friends and family. Problems taught me a lot. If you want to succeed with your life then I suggest you to take away your pride, selfishness and insecurities because it will destroy you. But the most important thing life has taught me is to is to trust God more than anyone else. So put God first into your life and he will guide you for all your plans.
9 responses

• Philippines
10 Apr 07
Yes, God should be put in the center of our lives. As He will help guide us in things that we venture upon, on relationships and decision-makings. There's also values, that we know is important as we grow up, we need this to respect people. Young or old, wise or fool, or even the rich and the poor.

• Indonesia
10 Apr 07
The most important thing that I learned was I should believe in myself and not being over confident at the same time. Because sometime God has different plan for us. I may not like it like the ups and downs you talk about. But whatever it is, in the end I will be grateful for it. And now I prefer do things just one day at a time but still optimist about what I do and pray God will give me the way.

• Philippines
13 Apr 07
evrything has its own place and every place has its own thing. never defy gravity. never go with the flow. just follow your lead. we have our own free will but God has given us a choice. a choice not too hard to follow. in life, i put God first.

• Canada
13 Apr 07
doesnt matter what i "learn" because when i die, i will be nothing and it wont be important anymore.. nonetheless, i still work hard to learn everything i possibly can.

• Philippines
13 Apr 07
Yes I agree with you that we should put God first and surely He will help us in everything we do.Then we should prioritize our family in order for us to be happy and live the life to the fullest.

• Philippines
10 Apr 07
Just like you, Life has taught me to be humble and respect other people irregardless of his class in the society. And yes of course, Life has taught me to believe and make my faith stronger to God. It is from him where we get our strength to face the challenginf world.

•
10 Apr 07
I do believe in God but not to the extent that I expect him to do all the hard work for me, I remember years ago when I was studying for my O levels (what are known as GCSEs these days) my parents took me to a religious function and I took my books with me to study. My friend was busy praying to God and her mother told me I should spend more time worshipping God than revising for my exams as God would ensure I was ok. I declined and my parents said they would also rather than I spent the time revising. I did far better in my exams than my friend did because I put my energy into studying myself than depend on God. God is there to help us yes, but God won't put you through university or help you get promoted or pay your bills. You have to do these things yourself or with the help of your family or partner, etc! The most important thing life has taught me so far is to do the best you can and do as much as you can to help others along the way.

• United States
10 Apr 07
Having faith in a higher power is definitely very important. I've also learned to be patient with those I love and gracious to those I don't. All I want to do at the end of each day is to know that I have faced that day with grace and dignity and that's what I've learned to do.

• United States
10 Apr 07
To not sweat the small stuff. I have always had a good 'relationship' with God, and I have always turned to him when I had a really big decision to make and he has always shown me the way. That being said, life has taught me to laugh when ya wanna cry, and learn from your mistakes and try not to repeat them. The last one was a longgg life lesson for me, been divorced 3 times. However, I met a great guy 2 yrs ago (online) and we've been together ever since, long story short, something beyond our comprehension brought us to the same 'page' that day!