How greedy are you?

United States
April 10, 2007 9:30pm CST
How big of a factor is greed in your life? Do you ignore family obligations to work and earn a bigger paycheck? When you see stacks of coupons advetising something "free" do you take alot of them? I'm asking because my mother called me greedy today. Her and I were discussing spending habits, and I mentioned that I've missed the extra money we had when I was working two jobs and I was considering looking for a way to make extra income, not necessarily to spend, bit I'm one of those people that if I get a $100 I'm looking for a way to make $200. I like having money in the bank, I don't think that makes me greedy. She also made fun of me becasue a rep came in to the office with free circus tickets and asked how many I'd like and I said 8. This way I can take my kids, my inlaws and my SIL to the circus for my SIL's 11th birthday next week and not have to pay a lot for it. I don't see it as greedy, I see it as a bargain. So how about you all out there? Do you have any habits that could be looked at as greedy?
9 responses

•
11 Apr 07
That ain't greedy that's cleaver! Forward planning is the key my friend. I wish i was more careful with money. I went to the dentist the other day and at the parking meter I just pumped in a load of coins and pressed the green button for my ticket. It was about 4 in the afternoon, turned out I'd just paid for a ticket that wouldn't run out until 2 oclock inthe morning :(. I got so angry with the machine for giving me a stupid ticket and no change, then i realised how stupid I was for thinking that a parking ticket machine would know how long I wanted to be there. So i laughed :)

• United States
11 Apr 07
To me that would've been a "sign" that i had to stay where I was at and hit the local bars until 2am! Drink the pain from the dentist away! LOL

• United States
11 Apr 07
well i use to live in dallas and the cost of living was very high and to be in a nice place and keep the kids from catching comments from other kids we worked all the time never seeing each other. one day we talked and found we were tired of it and the kids are only kids once in our lives and theres so somethings had to change and quick. we moved to a small town in arkansas where the cost of living was alot less and people dont look at how you dress etc on what type of person you are. onthe way here we tossed the cell phones out the window on the hwy and promissed only one of us would work and no more then 40 hours a week. if we couldnt make it on that then we would live cheaper lol. we have kept that promiss for 4 years now. i lost my job a month ago and i am getting unemployment now and well it is not much but we can be ok with it and we are both going to stay hom till end of summer now unless i find a good job. i am not taking another min paying job when i make that much on unemployment and can be with my kids for awhile. now if i find a good job i will take it and not take the summer off but that is cause it would be good for the family. i use coupons when i can nothing wrong with that. that is smart not greed. i try to make extra in different ways its not greed its living. money doesnt control us any more though life , family , living controls us now. i want to give my kids memories of us togehter not of them at home alone or with someone else. i am greedy in a way i guess when it comes to my family.

• United States
11 Apr 07
Bravo to you easymoney! You're right, your kids should be #1, and it took alot of guts to pick up and go for their benefit. I'm sure one day you'll hear them say thank you. I'll bet you're the envy of many people who feel married to their job.

• United States
11 Apr 07
I am not greedy in any way whatsoever. In fact my problem is I have always been too generous and a sucker for any hardluck story to the extent that I was "taken" for $26,000.00 and another $12,000.00 pending. This was caused by my daughter being the greediest person on the planet.

• United States
11 Apr 07
the only thing I can think of is I wish they didnt have SSI here for that takes away from the people that worked all thier life to retire but we retire with less than we should for they take SSI out our SS to pay for those that never have worked in the public

•
11 Apr 07
I don't regard wanting to work two jobs and making double the money as greedy. I regard it as ambitious, which is not a bad thing to be... neither is it greedy if you're willing to work for that status. I do, however think you may have been a little greedy with the tickets, as I would have given others the opportunity before I bought that many. Ok, you're right, it was a bargain, but it may have been at the expense of somebody else who really couldn't afford to buy the tickets, in that you deprived them of their opportunity so that you could have more tickets for yourself. I don't think I'm greedy... I like things to balance and I would refrain from taking something there was little of if I thought somebody else might want it. I'd give them first opportunity to decide, then if there was any left, I would take my allocation. I would rather give to others than take for myself, so I don't think I can be classed as greedy. Brightest Blessings and enjoy the circus. :-)

• United States
12 Apr 07
Well right now I'm saving for an expensive doll. It's something I've always wanted. Anyways I had a dream that a monster was eating people. I was going to help them but then I saw coins on the floor. I probably would have passed it but there were so many quarters! So instead of saving the people, I frantically started picking up the coins in my dream. That's how I realized I'm very very greedy.

• Davao, Philippines
11 Apr 07
all your actions is not an act of greediness instead its an act of preparation for your future..saving for future use is the best thing we or you should do..pertaining to tickets , your very thoughtful for thinking of your relatives to be able to go and have fun in the circus its a nice attitude actually...i dont know if i have that kind of habit..i havent actually been tagged as greedy in my family and relatives..

• Pakistan
11 Apr 07
Well i am much greedier but i will only greed to my needs.I donot want that much higher paychecks but $100 / month is good but if anyone is offering me more than it then my greediness will take me away from that $100 to earn more money or income online ;)

• Portugal
12 Apr 07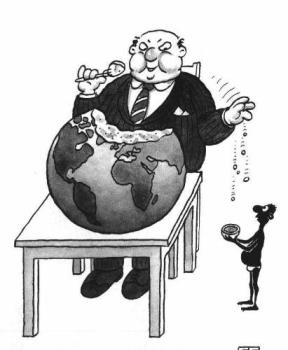 I am not greedy in any way. I am content with what I have at all times. As long as I have enough to eat, a place to sleep and friends to keep me in line I am satisfied. What others have is of no concern to me. Don't get me wrong, if I inherited something I wouldn't return it as damaged goods. Greed is one of the open sores in our society today. There are enough greedy people around without my adding to heap.