19-year-old sees, hears, senses spirits

Canada
April 13, 2007 1:22pm CST
Aly Vanderboegh of Nebraska may be just 19, but she has perhaps experienced more paranormal events than most of us who are well on in years. Ever since she was a little girl, Aly has been able to see, hear and sense the presence of spirits. One day while Aly was a young teen and visiting her friend Evan, who lived in a large home not unlike a mansion, she suddenly felt the air go cold. She and Evan were sitting in his newly refinished basement talking about his plans for a band. Aly turned to him and asked if he felt the drastic change in temperature, since he was somewhat psychic too. "I suddenly saw a young woman standing right next to me in a yellow summer dress, just standing there with a pondering sort of look on her face, as if she was watching Evan and me talk about destiny and was thinking about her own," Aly said. Evan saw the woman too and they both watched her for a while. Then Aly realized she was weeping. "I felt heartache for her, which doesn't really happen too often. I had the worst feeling then, as if I was desperate for love, longing to be alive. Then I realized I was feeling exactly what this specter was feeling." Aly said the woman's tears were so black that they were almost blue and her dress was torn and dirty. "I blinked a few times, but the vision did not change. I somehow knew that I had to speak to her or at least try. I wasn't sure whether she would respond to me or not, but I had to try." "Hello," Aly said and the woman looked right at her. "This was the response I was looking for. Just turning her head to acknowledge that I spoke with her was a good response." "Do you need something?" Aly asked. "Do you need help? Can I do something for you?" The woman did not speak, but she nodded and pointed to a mirror. Aly got up, took it off the wall and brought it over to her, while Evan looked on in amazement. "I held it up to the woman's face and she peered in, her red eyes reflecting heavily in the glass. She prodded at her face and bit her lip once, and then she blinked a few times at herself. She looked at me once and then back to the mirror." The spirit then pointed to a camera Evan kept by his side at all times - ever since his first sighting of a ghost. Aly picked it up and took the woman's picture. "Right after I snapped the picture, the camera melted in my hands. It was the strangest thing I had ever seen in my life. The woman finally just smiled and nodded a me, and then she disappeared." While that experience was most unnerving, Aly was about to meet a much more sinister spirit. "It started when one of my closest girl friends, Lora called me frightened out of her wits." Lora said she did not really believe in ghosts but felt, saw and heard something she could not explain. "I immediately went over, as she only lived a block away and upon entering the house, my sixth sense spoke up. I felt a very, very angry presence in the house and it was as if this presence was all over the house." Lora told her that she had seen an orb floating around in the living room and then it disappeared as quickly as it had come. "I began to walk around Lora's house, which was a large 18th century place. It had four floors including the attic and the basement was rarely used." While Lora did not believe in ghosts, her family believed the rumors that someone had been murdered in the basement, and the ghost of the murdered woman as still in the house. Aly decided to stay the night and camped in the basement, much to the surprise of her friend. During the night, she said both the ghost of the murdered woman and the murderer came back to relive the entire grisly scene. "It was gory. The murderer slit her throat and then cut her into pieces and burned them. The knife that was used in the murder had been down there since it happened, so it's safe to say that to remove it and destroy it is to get rid of the murderer's ghost - but the murdered (person) had lived in that house, so she was going to stay. I knew she would leave Lora alone though. She was angry with her murderer, not anyone who would succeed her in living in this place." Though the murdered woman was not harmful, she did scare Lora. For example, when she would walk up the winding and very steep staircase, the spirit would pop out at her and holler, "Get out!" "Lora actually fell down the stairs at one of these incidents." And whenever anyone went into the basement, they would hear her cry, "I'm being murdered! I'm being murdered! I'm dying! I'm completely dead!" Before and since these harrowing incidents, Aly has had many such events occur. "I have been in so many houses where I have communicated with presences that I can barely count them." For Aly, seeing, hearing and sensing spirits is something she's been able to do since she was a child. "I had a lot of 'imaginary friends' as a child and it scared my parents because I never really grew out of it. Many times, I also guessed that my mother was homesick for her birth country and went to comfort her." Aly says she always knew she was different, but didn't really understand what was happening until she was about 13 years old. Her first encounter with a ghost happened one night while she was in her bedroom and the spirit of a woman walked in. "I asked her who she was and she vanished." Her next encounter occurred while she was watching television alone as her parents had gone to bed. All of a sudden, the television turned off seemingly by itself. "Suddenly a young boy was sitting on the ottoman in front of me. He was weeping." Aly said she immediately knew who he was. Apparently, on the third day her family had moved into the house, she found a book with the name 'Timmy Sherwin' written in pencil on the jacket. So she asked the boy if he was Timmy and he nodded yes. "I gave him the book and he hugged it to his chest. Then I asked him if he would like me to read it to him." Timmy just shook his head and vanished, Aly said and she hasn't seen him since. She added that the boy's sudden appearance really freaked her out. However, now she says she views her ability to see spirits as a gift because she is able to communicate with them and also help those who are disturbed by their presence. At one home she visited, she encountered half a dozen Victorian women when she was shown a supposedly 'haunted tea set.' "It had come with the house, as if the previous owners had not wanted to keep it. The current owners had tried to sell it, but every time someone took it home, they brought it back within the month claiming that it was haunted." The homeowners never really believed that but one afternoon, the lady of the house was surprised to see the spirit of a woman holding the teapot by its handle. The lady screamed and called her husband, but it was her daughter who came running. Meanwhile, the spirit continued to pour tea into porcelain cups. When finished, she looked toward the bay windows as if she was expecting someone. "At nearly that exact moment, the doorbell rang and then there was a delicate rapping on the door. Everyone started, but the specter went to the door and opened it! Standing outside were five more women, all attired in the most beautiful Victorian gowns and carrying parasols. The specter let them in and they sat around the table sipping tea. The family could hear them chattering about this and that, but they couldn't pick up specific conversation." Aly said the tea party lasted about an hour and a half, and when it was over the spirit showed her guests to the door. "When it was all over, the lady of the house went over to the tea set and touched the teapot. It was still hot!" Aly said she learned a lot about spirits and the spirit world that day. "Some specters seem to just go on with their lives even after their deaths, regardless of those living around them. Perhaps they don't even know that they are dead." Since seeing, sensing and feeling spirits is so natural to Aly, she said she doesn't understand why people keep their experiences - bad or good, scary or not - to themselves. "I feel that each spirit you encounter gives you a more rich experience in life. I think that you can learn a lot from a ghost, whether it has bad or good intentions. They can actually be very fun to talk with, if you have that sort of gift." And Aly certainly has fun with the two spirits of children whom she lives with now. One is 6-year-old Mary Anna Joseph, whom she said has been a real joy to get to know. "She has so many things to say, she is so vibrant and I think that she is making up for what she has missed in life. I get sad sometimes when I think of what she could have become." When she first met Mary, the little girl told her that she used to live in the house, became very ill and died. "Then she told me that she needed a friend. When I offered to be her friend, her eyes lit up and she looked immediately happier. She was born in my room and her mother had died when she was born, so Mary had never known her mother. I found this extremely sad." Aly explained that since her mother died during childbirth, she was very close to her father. Aly asked Mary if she realized she had died. "Not right way," she told Aly. "I just remember a light and then I was standing outside of my own body. I looked around. I saw my daddy kneeling by my body and crying. I suddenly knew that I was dead and I was a ghost. I cried for a really long time and I tried to talk to my daddy, but he left about six months after I died. He couldn't take the pain of losing me so quickly after he lost my mother." Having special psychic abilities has not been easy on Aly. Her parents don't believe her and some of her friends think she's very strange. However, she said what she does is quite natural to her. While she has learned much in just a few years about the paranormal world, she says she's
3 responses

• United States
26 Apr 07
I am amazed at how some people choose not to believe that there are those who are capable of seeing and hearing things that most cannot.

• United States
27 Apr 07
I agree. Some people just can't believe that and it's really there.

• Philippines
14 Aug 07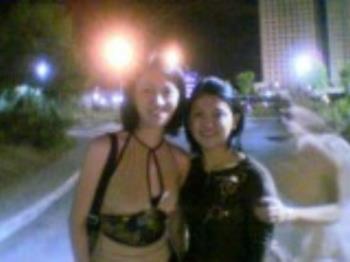 Yeah i would have to agree, but you know? We can't really blame them if they don't want to believe on what we believe in coz you know, everybody have their own opinions and ofcourse, they want to see in their very eyes before they will believe about those things like paranormal things. Have a nice day ahead from Kiko

• United States
18 Apr 07
"While she has learned much in just a few years about the paranormal world, she says . . " "In order to prevent spam . . "

• Canada
14 Apr 07
a truly fascinating story, I believe there is a ghost in this present house, my cats seem it all the time.