I rescued a dog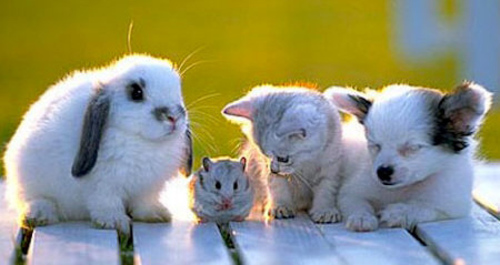 Hungary
April 14, 2007 3:04pm CST
recently I have rescued an one month old puppy from an alcoholist.I found the puppy unconscious near the street.He was injured and his beards were pulled out and was bleeding.I took the puppy to the emergency hospital and he is now stable.However he is in shock.I am trying to help the puppy to recover from the nightmare he had with the illiterate alcoholist.How a human can be rude?
7 responses

• Philippines
15 Apr 07
thank goodness u have a good heart..:) i love to pet dogs and i hate the thought of dogs getting maltreated by their cruel owners. if only i could save them... :(

• United States
15 Apr 07
that is sooo sad. But good for you i wish you luck in helping the puppy. You know that you can also help the humane society by becoming a foster parent for animals in need.

• United States
15 Apr 07
Human's can be so horrible because many think that pets and even people are property not living beings. They are just that bloody dense. I'm not sure how you can help the poor little thing but it'll take time. Time heals all they say. Just comfort him as well as you can and work with him to gain his trust.

• Hungary
15 Apr 07
Hi, Thanks for the reply.I do agree with you.Some people think pets and people are property and they can treat them in any manner they want. My puppy is healthy now.He needs love.He is staying with me.My other pets are also very friendly with him.I am sure he will gain trust again. Thank you again for the reply.:)



• United States
14 Apr 07
That is so sad! It really makes me want to cry. I have a yorkie puppy and I treat her like a she is my baby. I don't know how anyone could be so mean! I'm glad you such a great person that you rescued it and didn't just leave it there. Poor thing, only one month. So so sad. I'm sure the puppy will be fine and you will be able to give a good home and it will have a happy life and it will love you for it. You are really a great person. Good luck with your new puppy. =)

• United States
14 Apr 07
Thousands of dogs are abandoned and/or mistreated every day. My daughter volunteers for an animal shelter and there is never shortage of dogs waiting to be adopted or dogs who are hospitalized there for the abuse they endured before they were rescued. Hopefully, your puppy will recover. My husband once rescued a puppy that was just a few weeks old. It founds its way into his shop and he brought it home. We couldn't keep it, but it was so small we had to feed it with an eye dropper. Finally, an animal shelter agreed to take the little pup.

• Hungary
14 Apr 07
Thanks for the reply. Yes you can see thousands of stray dogs in the street.Thanks for the animal lovers or volunteers for their effort to rescue such animals.It is good to know that your daughter is an active volunteer.I also teach my 12 months old daughter to love animals.Animals need love.Thank you very much again.