My Penneshaw Holiday!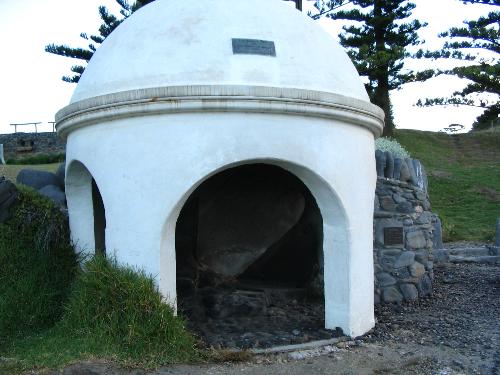 Australia
July 20, 2007 2:30am CST
Some of you know that I started this discussion two days ago. However when I uploaded a photo, & then previewed it, the editing button wiped out my discussion. So I am trying again. Ouyr 6 days on Kangaroo Island at Penneshaw was lovely. For winter, we were very lucky, as we had all days except one that was sunny & plesant. So Bianca and I did a copule of walks to Frenchmans Rocks. Not nly is there a monument, but a large rockery where Fairy Penguins nest. Wallabies live there too. We spent a whole day driving to Flibnders Chase National Park, so we could view a platypus in it's natural environment. When we got there we discovered that the dirt track leading to the lake had been closed, as it was hazardous due to rain. We continued our day tip to the far south west corner of the island, to see Cape Bordu. W wild & windy piece of magnificant coastline, many a ship was wrecked here in the early days. We went on two night time fairy penguin tours at Penneshaw. They ar breediung well, although numbers are dropping a bit due to the increase in Sealions, who prey on them. I have included a photo of Frenchmans Rock (if it views)!
10 responses

• United States
20 Jul 07
It sounds like a wonderful relaxing trip. I am glad the weather held for you. I am ready to think about winter again. I will look forward to seeing some of your pictures as you go along.

• Australia
21 Jul 07
I will post a photo of a fairy penguin later today or tomorrow, & then some of the beaches. My daughter has a swimming competition later today & I am flat out.


• United Kingdom
20 Jul 07
I really love Kangaroo Island. It is one of my favorite places in Australia. I caught a bus to a port on the mainland then the ferry over to lovely Penneshaw. I stayed the night in the youth hostel there. The manager told everyone there was a talk about penguins that evening. Setting off to the hall where this was to be held it was dark and I heard the noise of a penguin. After the interesting talk we went for a walk around to see the penguins. Wow! Public transport was very limited on the island and so I decided to go on a backpackers style tour for a couple of days. we saw a nervous looking kangaroo near to Frenchman Rocks. I had my photo taken at Admirals Arch. I just loved seeing all the friendly wildlife at Flinders Chase National Park. The kangaroos were such fun to see. We went to a lovely yellow sandy beach where the sea lions basked in the sun. It was great to take photos of them. In the evening we had a camp fire next to our accommodation in the bush. Two possums came along and I took a photo of them. I am really glad that you had such a wonderful holiday on Kangaroo Island. It was lucky that you saw a platypus. It is such a shame penguin numbers are dropping though.

• Australia
21 Jul 07
AnotherrAussie, thats great. You are right, there is almost no public transport on KIs. The backpackers hostel is very popular with tourists. My holiday home at Pennehsaw is at the other end of the beach from wehehere you were staying.

• Philippines
20 Jul 07
Hello Jenny. So that's where you went to. I'm wondering why the sudden quietness in your camp. I, too, had just gotten out from my days of hibernation and I'm laying low still. Sounds like you have the grandest moment in your life there. I haven't had the chance to travel to your country yet. I only know that Australia is popular with kangaroos, LOL. I'm glad you have a good time.

• Australia
21 Jul 07
Lots of kangaroos, koalas & wallabies on Kangaroo Island.

• United States
20 Jul 07
I am glad you had such an experience. Good for the playpus that day I guess. Hope that driving was not the whole of your experience. There is a balance that will swing back to the penguins some day if the evironment with our influence will let them. Thanks for sharing and I hope you can travel again and see more wonderful things of your land.

• Australia
21 Jul 07
The Sealions are protected, so that is why the fairy penguin population is declining. However, excellent breeding conditions at Penneshaw will hopefuly ensure the survival of them.

• United States
20 Jul 07
It sounds like you had a wonderful time. Please post more pics.

• Australia
21 Jul 07
Yes, I will post more photos over the next few days.

• United States
20 Jul 07
This is another Country I'd love to visit before I'm too old to travel. Loved the monument. rated & comment left. Got more pics to share I hope? HAPPY POSTINGS FROM GRANDPA BOB !!~

• Australia
21 Jul 07
Yes, I have quite a few photos & I will gradually show them over the next few days. Come to Australia before you are too old; there are lots of good travel specials.

• United States
20 Jul 07
It sounds like you had a lot of fun. I am glad you decided to try to post this discussion again. The picture came through just fine. I am hoping that you got some more pictures to show. I would love to see a fairy penguin. I have never seen one before.

• Australia
21 Jul 07
I will post a photo & brief discussion of a fairy penguin later today or tomorrow.

• United States
20 Jul 07
What a great picture and sure wish I had time to visit there now. The area would be great for sight seeing and my husband would get to use his camera. It looks like a great place to relax and have a picnic lunch.

• United States
21 Jul 07
I am so glad you enjoyed yourself. I love going to places that are educational as well as fun.