dragon fruit

Indonesia
5 responses

•
31 Jul 07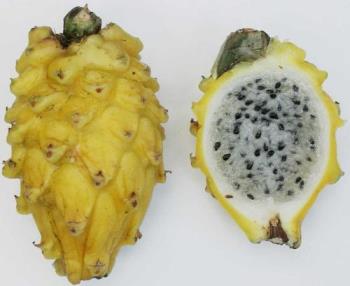 Until earlier today I had not even heard of dragon fruit but I ate some yesterday - my hubby's friend gave us two boxes of fruit as a gift and it was full of weird and wonderful fruit including dragon fruit. I tried it and wasn't very keen on it, mostly because it looks very odd - I tried two bites of it and then gave up, I don't know if I disliked the taste, but I definitely did not taste it and think "Mmmmm I really like this!" LOL! I had never even seen it before and funnily enough just looked it up before I came across this discussion!

• Malaysia
1 Aug 07
we have the one with the dark pink color over here and my sister like it. I never try it yet because i am a person who will eat the food which have a nice look. Dragon fruit look a bit weird to me and since it is from the cactus, I guess it must taste different because I never had anything from the cactus. I think it will taste nice in the soup provided the soup is Chinese style soup or at least the clear soup mixed with some chicken perhaps.

• United States
28 Dec 07
I have had the dragon fruit sobe's but thats it, I have never tried the actual fruit. But the drink wasn't bad, it was interesting. I liked the smell of it so It would make a good smell for soap.

• United States
27 Aug 07
I've never heard of dragon fruit but that's probably because I've never been to your country. It sounds strange that it can also be used in soup...I think I'm going to check that out. I love trying new foods.

• Malaysia
23 Aug 07
Yes ive heard of dragon fruit and it is the dragon fruit season here in malaysia. I think it tastes alright.Its not really sweet nor sour..I havent tried it with soup but I like to have it with vanilla ice cream.